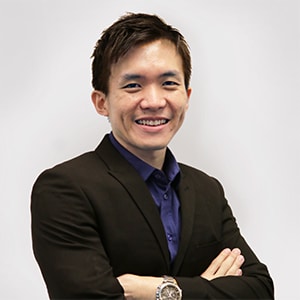 Shaun comes from a rich background of B2B sales, social media marketing, demand generation, marketing operations and marketing strategy.
During his tenure as a global digital marketing leader, he was awarded by Linkedin as a top paid media specialist. His advertising strategies drove 90% more sales conversions while reducing marketing cost by 30%. Shaun's campaigns beat industry benchmarks and was recognised as one of the best performing campaigns in 2018 by Linkedin's digital team.
Shaun's advertising experience include managing million dollar digital budgets. Using the latest digital strategies, Shaun helps MNCs, SMEs & entrepreneurs maximise their ROI on Linkedin. More than just advertising, Shaun was able to create an ecosystem of data enrichment capabilities. This enabled his teams to achieve B2B precision targeting on traditionally B2C platforms like Facebook, Twitter and Google. He has helped a Canadian tech start-up rapidly grow to a seven-figure profit within 1.5 years.
Playing a key role in previous marketing agencies, Shaun had the opportunity to consult top brands like Grab, Oracle, Microsoft, Salesforce, NUS (and more) with their online marketing & go-to market strategy. This exposure gave him a holistic view of data analytics, social selling, conversion rate optimisation, A/B testing and PPC. Being experienced in multi-step email cadences and complex marketing operations on Pardot and Marketo, Shaun helped in the implementation of an intent-based technology that allowed his team to identify in-market audiences rapidly. This led to more accurate and timely marketing messages to his audiences, which translated to higher sales conversions.
An ACTA-certified trainer, Shaun has trained hundreds of corporate individuals on demand generation, social media marketing, online marketing, and field marketing. He has led trainings at notable companies like Evernote Corporate, NTUC Learning Hub, Shell, ST Engineering, Mediacorp, and e2i.
"Kevin is a great trainer with his wealth of experience in SEO. I appreciate that he has incorporated his professional expertise during the course and showed us the various tools across SEO, which is very applicable in real-life corporate situations."
Wenyi Saw
Courses Shaun Facilitates:
Learn Digital Marketing Hands-on
Take away actionable digital marketing strategies and get certified.