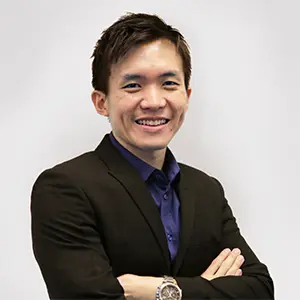 Shaun is a highly skilled and engaging trainer with over 11+ years of experience in digital marketing and business development. He is an expert in various digital marketing strategies, including performance marketing, web analytics, social media marketing, SEO, and paid search.
Known for his ability to connect with participants and create an engaging learning environment, Shaun delivers training sessions that are both informative and interactive. Since 2015, Shaun has conducted 960 hours of training and averaged a 4.7/5.0 trainer rating.
He brings real-world experience from working for top brands like Bytedance, Amazon, LinkedIn, and Vision Critical, enabling him to provide practical insights and actionable strategies.
Shaun's training approach bridges the gap between theory and practice, empowering participants to apply their learning effectively. He incorporates sales enablement strategies into his sessions, drawing from his background in business development and sales to align marketing efforts with revenue goals.
With a passion for continuous improvement, Shaun actively seeks feedback to enhance his training delivery. He simplifies complex concepts and motivates learners by sharing his enthusiasm for knowledge-sharing. Shaun's expertise extends beyond digital marketing, as he also offers valuable insights on optimising processes and driving overall business success. In his free time, Shaun enjoys learning new skills like coding, machine learning, and repairing a Boeing 737.
"Having went through 2 other modules thus far, Shaun was the best trainer one could ask for! He's very passionate, engaging and very willing to listen or help students if time allows him too. He handles students who didn't pay attention really well and professionally too, didn't lose his cool after repeating for 6-7 times. I would have smashed the laptop. Jokes aside, I could say that though it was a weekend course, I did not dread waking up early for it as it was really valuable learning for me! Kudos to Shaun!"
Gwen Ng Sin Ee
"Shaun Lee is an amazing trainer! His enthusiasm makes me look forward to class and the new skills and knowledge that i can take away from the course. He is overly willing to go through the class assignment when I was struggling or just wanting him to check my work off lesson time, and that is very impressive as he is not obliged to do so. His passion for conducting the lesson inspires me! Thank you so much Shaun!"
Edna Chew
"Shaun is a proficient and engaging trainer. His patience, humility and humour, on top of his technical expertise, means he was able to keep the class engaged throughout. Thank you Shaun for a job well done!"
Laetitia Wong
"Shaun is one of the best lecturers I've had with Equinet so far. He is patient and takes the time to explain in detail and also give tips that are not in the notes, and also shares his relevant working experience in LinkedIn."
Tan Wen Er
"Shaun is well-versed in up-to-date information and techniques used in the marketplace. He is able to maintain a high energy level while delivering heavy weight content."
Jacob Lau
Courses Shaun Facilitates:
Articles Written by Shaun:
Learn Digital Marketing From The Best
Get yourself certified, apply actionable digital marketing strategies at work and see results.