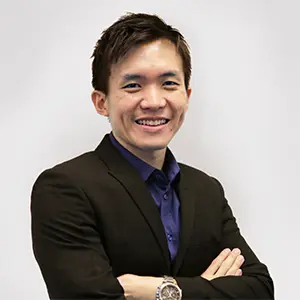 Shaun comes from a rich background of B2B sales, social media marketing, demand generation, marketing operations and marketing strategy.
During his tenure as a global digital marketing leader, he was awarded by Linkedin as a top paid media specialist. His advertising strategies drove 90% more sales conversions while reducing marketing cost by 30%. Shaun's campaigns beat industry benchmarks and was recognised as one of the best performing campaigns in 2018 by Linkedin's digital team.
Shaun's advertising experience include managing million dollar digital budgets. Using the latest digital strategies, Shaun helps MNCs, SMEs & entrepreneurs maximise their ROI on Linkedin. More than just advertising, Shaun was able to create an ecosystem of data enrichment capabilities. This enabled his teams to achieve B2B precision targeting on traditionally B2C platforms like Facebook, Twitter and Google. He has helped a Canadian tech start-up rapidly grow to a seven-figure profit within 1.5 years.
Playing a key role in previous marketing agencies, Shaun had the opportunity to consult top brands like Grab, Oracle, Microsoft, Salesforce, NUS (and more) with their online marketing & go-to market strategy. This exposure gave him a holistic view of data analytics, social selling, conversion rate optimisation, A/B testing and PPC. Being experienced in multi-step email cadences and complex marketing operations on Pardot and Marketo, Shaun helped in the implementation of an intent-based technology that allowed his team to identify in-market audiences rapidly. This led to more accurate and timely marketing messages to his audiences, which translated to higher sales conversions.
An ACTA-certified trainer, Shaun has trained hundreds of corporate individuals on demand generation, social media marketing, online marketing, and field marketing. He has led trainings at notable companies like Evernote Corporate, NTUC Learning Hub, Shell, ST Engineering, Mediacorp, and e2i.
"Having went through 2 other modules thus far, Shaun was the best trainer one could ask for! He's very passionate, engaging and very willing to listen or help students if time allows him too. He handles students who didn't pay attention really well and professionally too, didn't lose his cool after repeating for 6-7 times. I would have smashed the laptop. Jokes aside, I could say that though it was a weekend course, I did not dread waking up early for it as it was really valuable learning for me! Kudos to Shaun!"
Gwen Ng Sin Ee
"Shaun Lee is an amazing trainer! His enthusiasm makes me look forward to class and the new skills and knowledge that i can take away from the course. He is overly willing to go through the class assignment when I was struggling or just wanting him to check my work off lesson time, and that is very impressive as he is not obliged to do so. His passion for conducting the lesson inspires me! Thank you so much Shaun!"
Edna Chew
"Shaun is a proficient and engaging trainer. His patience, humility and humour, on top of his technical expertise, means he was able to keep the class engaged throughout. Thank you Shaun for a job well done!"
Laetitia Wong
"Shaun is one of the best lecturers I've had with Equinet so far. He is patient and takes the time to explain in detail and also give tips that are not in the notes, and also shares his relevant working experience in LinkedIn."
Tan Wen Er
"Shaun is well-versed in up-to-date information and techniques used in the marketplace. He is able to maintain a high energy level while delivering heavy weight content."
Jacob Lau
Courses Shaun Facilitates:
Articles Written by Shaun:
Learn Digital Marketing From The Best
Get yourself certified, apply actionable digital marketing strategies at work and see results.