How To Run LinkedIn Ads in 2020: A Definitive Guide to Advertising on LinkedIn
Unsure whether LinkedIn advertising is a good fit for your business? Well, if you're a B2B business then you should absolutely use LinkedIn ads.
LinkedIn marketing has become an essential part of how B2B businesses grow their revenue. As reported by LinkedIn's newsroom, they currently have 660 Million members across 200 countries. Their user base is made up of mainly professionals and decision-makers from companies of all sizes. There are also more than 30 million companies on LinkedIn and is the most used platform by Fortune 500 companies.
As a digital marketer, what truly differentiates LinkedIn advertising from other platforms is their targeting ability. Specifically, you are able to target companies to senior decision-makers to job titles and functions.
There's no other platform that comes close to this targeting capabilities. LinkedIn advertising is a no-brainer for B2B advertisers.
If you want to learn how to advertise on LinkedIn, then you're in the right place.
If you're looking for ad ideas for your next LinkedIn campaign, get some from this list of 130+ best LinkedIn ads we curated.
Over the next 8 chapters, you will learn everything from creating a LinkedIn campaign, choosing the right objective and even measuring ROI.
Table of content: 
Why you should advertise on LinkedIn Now
How to create a LinkedIn Ad Account
Why selecting the right ad objective is important
Identifying the right LinkedIn ad objective to use
What Content should I use on LinkedIn
How Does LinkedIn Location Targeting Work?
Why is selecting your audience profile language important?
What professional Targeting should I use?
The Key Ad Formats on LinkedIn
Selecting the right bidding amount and strategy
Measuring, reporting and analytics on LinkedIn
LinkedIn ad benchmarks
Why You Should Advertise on LinkedIn Now
Not too long ago, many thought that LinkedIn was just another job site.
The way people use LinkedIn today is very different. If you go into your LinkedIn feed now, you barely see others posting about jobs.
Many users are now using LinkedIn as a place to learn from leaders/experts and improve their careers.
Just take a look at this statistic by LinkedIn:
15x more engagement on content posts than jobs
9 Billion content impressions a week
48% increase in engaged feed time.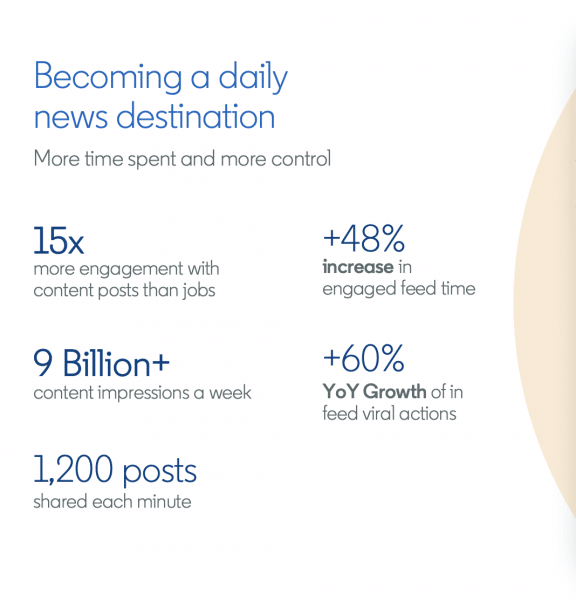 LinkedIn has transformed from just being a "jobs portal" into a daily news destination.
Their user base is impressive too. Here's a breakdown of the audience size in each region.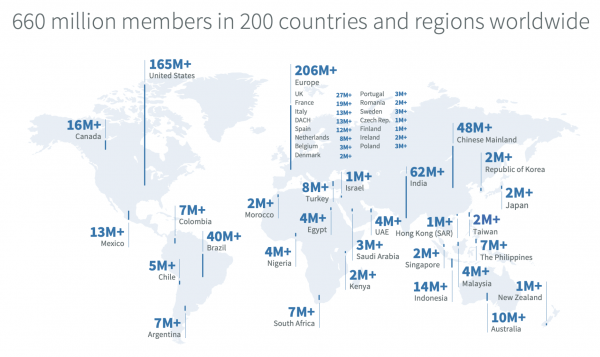 Out of the 660 Million members, 70% of the users are outside US. LinkedIn is also growing at more than 2 members per second.
Although their member base is smaller than Facebook, there's a huge difference in the mindset of the users.
A study on LinkedIn users showed that users come to LinkedIn to network, learn from leaders, improve their career and search new opportunities.
This is unlike Facebook or twitter where most people go to be entertained.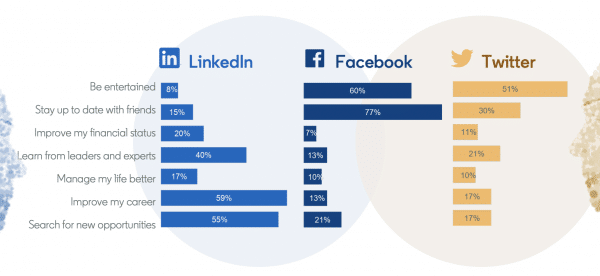 LinkedIn users are 1.7% times more receptive to advertising.
This is no surprise because audiences are seeking to learn and are looking for advice.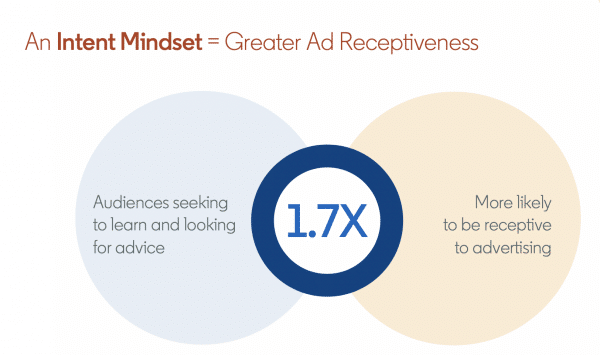 It's also worth mentioning that LinkedIn is the most trusted and brand-safe platform now.
With all the fake news and abuse on Facebook and Instagram, this is certainly an important factor for B2B companies.
Would you want your Webinar promotion to appear just after a scantily dressed swim-suit model on Instagram?
We don't think it's a good brand image for a B2B advertiser. The audience is clearly not in the right mindset to consume your webinar content.
A study by Business insider showed that users believe in LinkedIn's content and ads are the least annoying.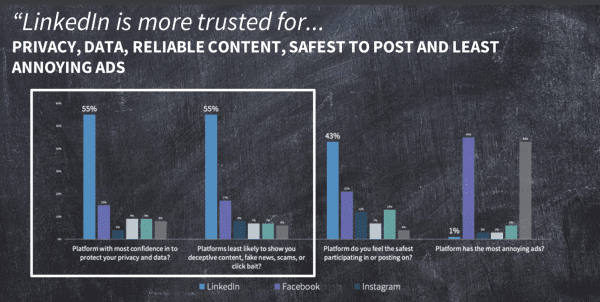 While all these sounds great, here's the downside about LinkedIn marketing – Their ads are the most expensive out of all the platforms.
So how much do LinkedIn ads cost?
It's not unusual to find $5-6 cost per click on LinkedIn. For a highly sought after audience (like decision-makers), cost per click by even go as high as $15.
Ad cost is high because of all the reasons stated earlier (Highly affluent audience, premium environment and audiences with the right mindset).
Pro Tip: Take these steps to find out if LinkedIn ads is a good fit for your business
Start by calculating your Customer Lifetime Value.
Build your customer persona. Think about the job functions, job titles, industries and even the type of skills they might have.
If you have a Customer Lifetime Value of above $5,000 and have identified the professional demographics, then LinkedIn is a good fit.
Likely, if you're a B2B business, you would easily qualify through these pointers.
If you're a B2C business, exercise caution to ensure that you have a good customer lifetime value.
If you're selling a pair of $5 earrings, it's unlikely you will see ROAS with LinkedIn ads.
However, if you're selling a luxury brand like Gucci, Prada or Cartier then LinkedIn might still make sense due to it's affluent audience.
LinkedIn members have an average household income of $83,000/year. This means they have disposable income for high-end B2C products too.
There's never been a more exciting time to explore LinkedIn marketing and advertising.
Pro Tip: At the very least, you should have a LinkedIn company page and use their free tools (Like the LinkedIn Insight tag – More on that in a while).
How To Create A LinkedIn Ad Account
After advertising across Facebook, Instagram, Google and Twitter, I must say that LinkedIn campaigns are the easiest to create.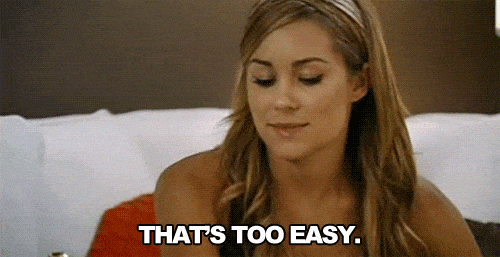 This is a double-edged sword. Although it's easy to create, LinkedIn's capabilities are not as comprehensive as others.
To get started, you'll need a LinkedIn Company Page.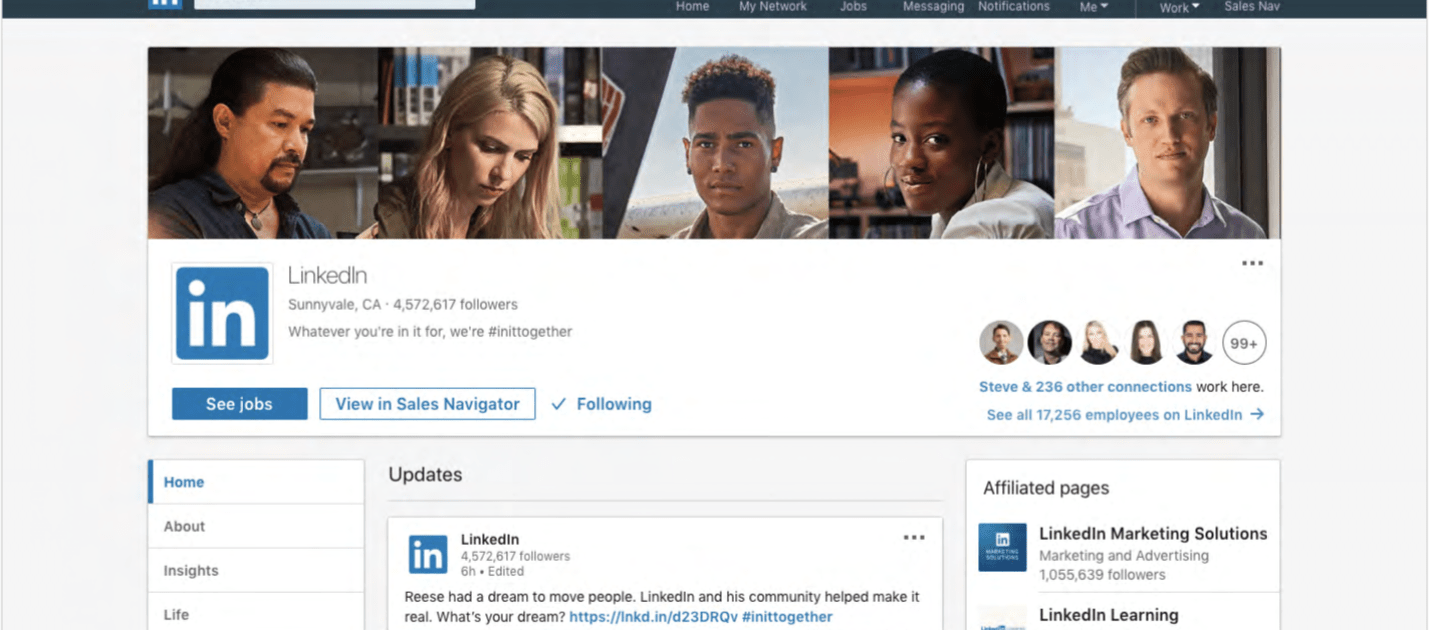 LinkedIn company pages are free to create.
This is your brand in the professional world.
To create a LinkedIn company page, you'll need:
A LinkedIn account
A verified email address
That's it!
Once you've created your LinkedIn company page, you'll need to make your company page look professional.
Here's the 6 basic criteria to create a good company page.
Upload your company logo
Add a tagline – Use 1 to 2 sentences.
Fill out description of your organisation in "Overview" tab
Add your organisation's website URL, industry, company size and company type.
Add a cover image – 1536 x 768 px recommended by LinkedIn
Post content daily if possible. If not weekly at the minimum.
Following these criterias will help your brand be more searchable to LinkedIn members who are looking for your products / services.
Check out these award-winning LinkedIn company pages to get more inspiration:
Next, you'll need to create a LinkedIn Campaign Manager account.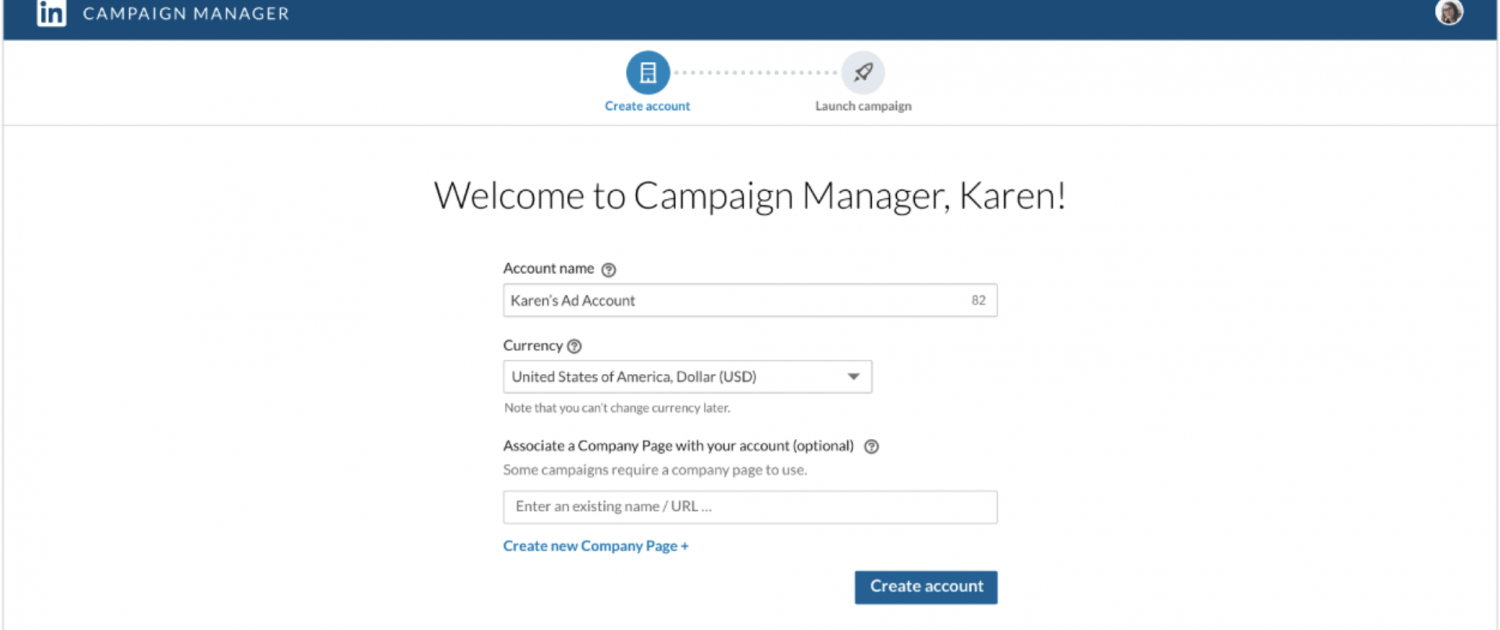 You'll need these to get started.
A LinkedIn Account
A Credit Card
The campaign manager tool allows you to launch campaigns, control your budget and set-up different ad accounts.
Pro Tip: Your currency can't be changed once chosen. So be sure about the currency you'll be paying from.
Done? That's it. You're in and ready to create your LinkedIn campaigns
Why is selecting the right LinkedIn ad objective important?
The biggest mistake you can make in a LinkedIn ad is selecting the wrong objective at the start.
Why is selecting the right ad objective important?
LinkedIn optimises your ads towards audiences who will most likely take the action on your desired objective. (For example: To visit your website, To fill out your form, To view your video etc).
Ad products might differ by objective
The chargeable clicks for each objective are different.
Selecting the wrong objective might cause your ad to optimise to the wrong audience or pay more for irrelevant clicks.
Objective
Optimization
Awareness
Brand awareness
Impression (CPM Bidding Only)
Consideration
Website visits
Landing page URL clicks
Engagement
All clicks (Landing page clicks, Company page clicks/follow, Social actions)
Video Views
Video views
Conversions
Lead generation
Lead gen form submissions
Website conversions
Conversion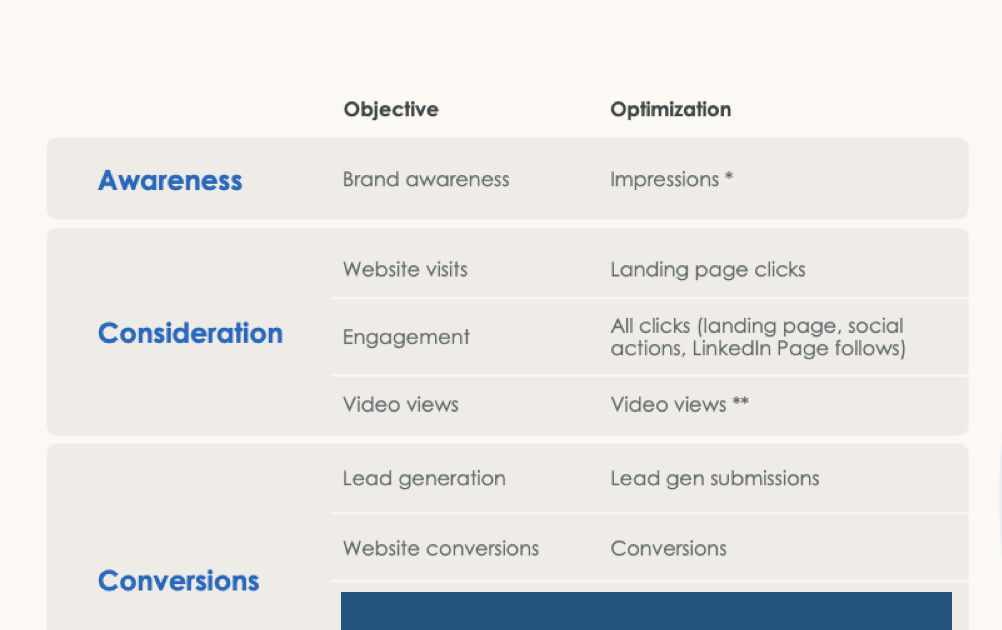 * Video views objectives can be optimised in 2 ways
CPM bidding which optimises towards getting more people to see your ad
Alternatively, bidding by video views optimises towards video views (Audiences who will likely have +2 continuous second views at 50% of the screen).
A LinkedIn rep sent me this recently to explain how an advertiser's clicks are being charged now.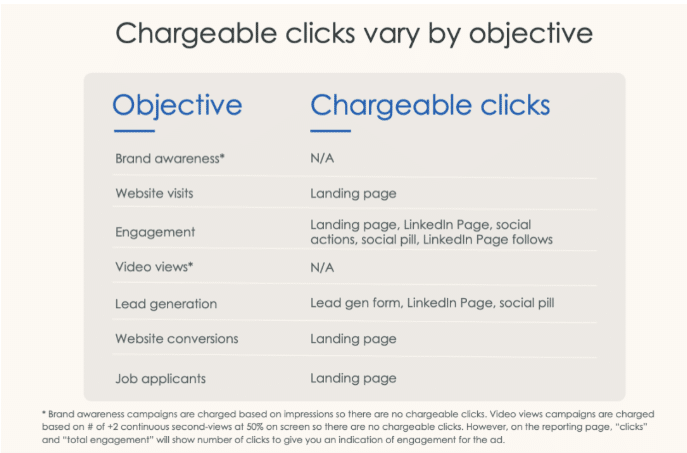 What this says is that LinkedIn is going to be fairer and only charge advertisers if their objectives were achieved.
If your goal is to drive traffic for a website site, you won't be charged for social actions, social pills and other irrelevant actions.
That is great news!
The downside here: The clicks will cost more.
LinkedIn has increased their pricing (As if they aren't already expensive). Their reason is because the clicks are higher quality.
Identifying the right LinkedIn ad objective to use
Now that it's clear the importance of choosing the right objective, here's how to select the objective that will work for you.
Ask yourself, which part of the marketing funnel does your campaign fall under?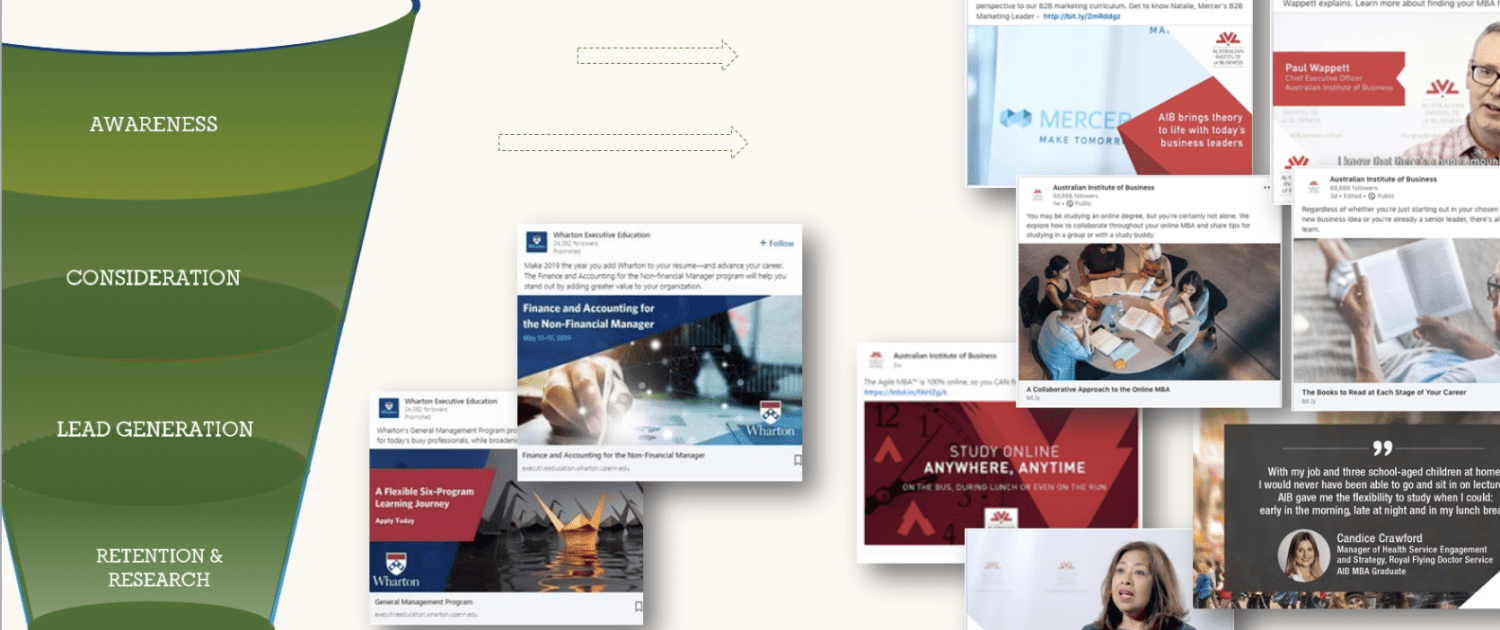 If it's in the awareness stage, select the "Brand Awareness" objective. Your campaign will optimise for impressions which are excellent for the top of the funnel objectives.
For the consideration stage, you have 3 options:
Website visits – Where you want to drive traffic from relevant audience to your site
Engagement – Getting your audience to react and interact with your brand through social actions, follows or even clicks to your website.
Video Views – Getting your audience to view your campaign's video.
In the Conversions stage, you have 2 options
Lead generation – Where your campaigns are optimised towards audiences who will complete a LinkedIn auto-populated form (pre-filled data contains member's information).
Website Conversion – Optimising towards audiences who will take action on your site. Whether it's downloading a whitepaper or registering for a webinar.
Pro Tip: Every advertiser wants to generate leads.
As you can imagine, the cost for a lead generation objective is going to be expensive due to high demand.
Think creatively on how you could use other cheaper objectives like Engagement objectives to still drive interest for your brand.
Here's a summary of which ad formats work best for various objectives. There is no definite answer, so keep testing.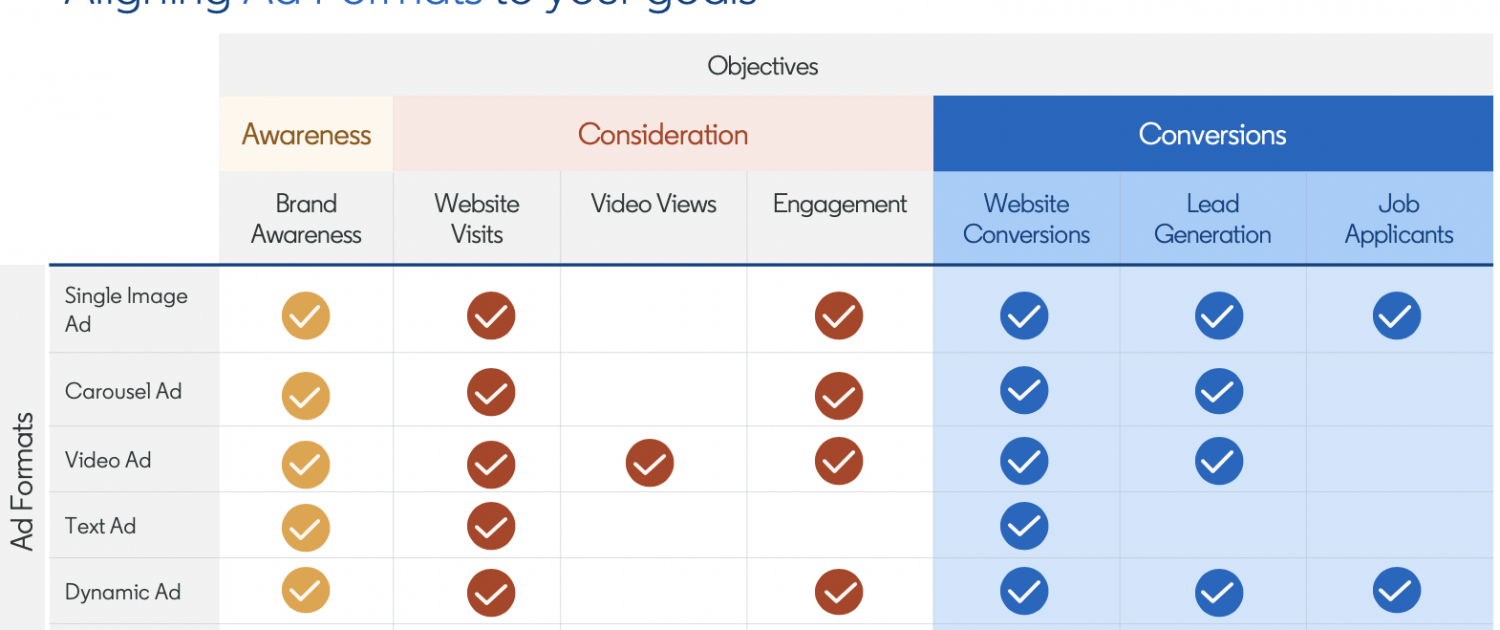 Choosing the right ad format is not enough, you'll also need the right offer to entice your audience in.
What Content Should I Use On LinkedIn
An in-depth research by Content Marketing Institute revealed which types of content are most effective at various stages.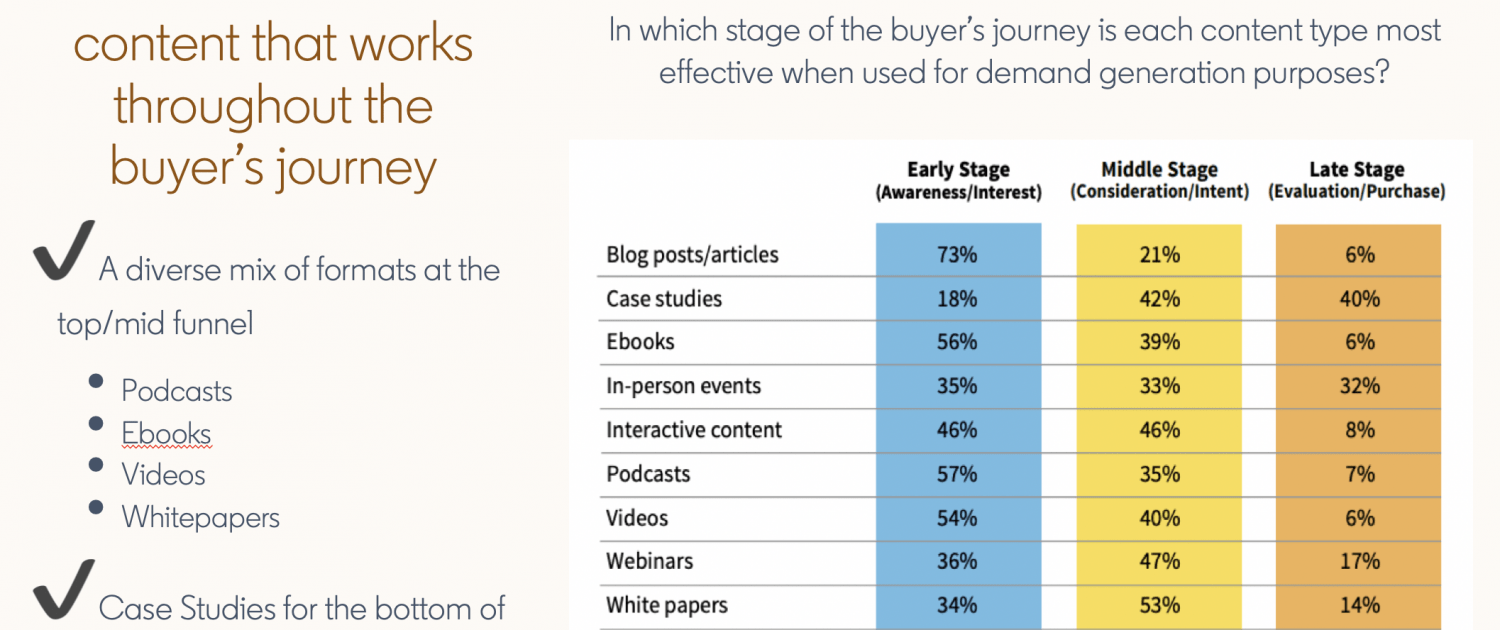 The biggest thing that stands out for me is "Case Studies".
It is the highest performing content for late stages.
What's surprising is that it's effective for middle stages too.
In my experience, if you position the case study as more informational rather than narcissistic, then it could even be a good early-stage asset.
Remember, LinkedIn users go to the platform to learn about new ways to succeed in their jobs.
If your case study tells a compelling story without the "I'm the best company in the world" message, it could cut make your brand stand out.
Start with informational case studies first, if possible.
How Does LinkedIn Location Targeting Work?
You'll be able to select the location you want to target at the "Locations" drop down.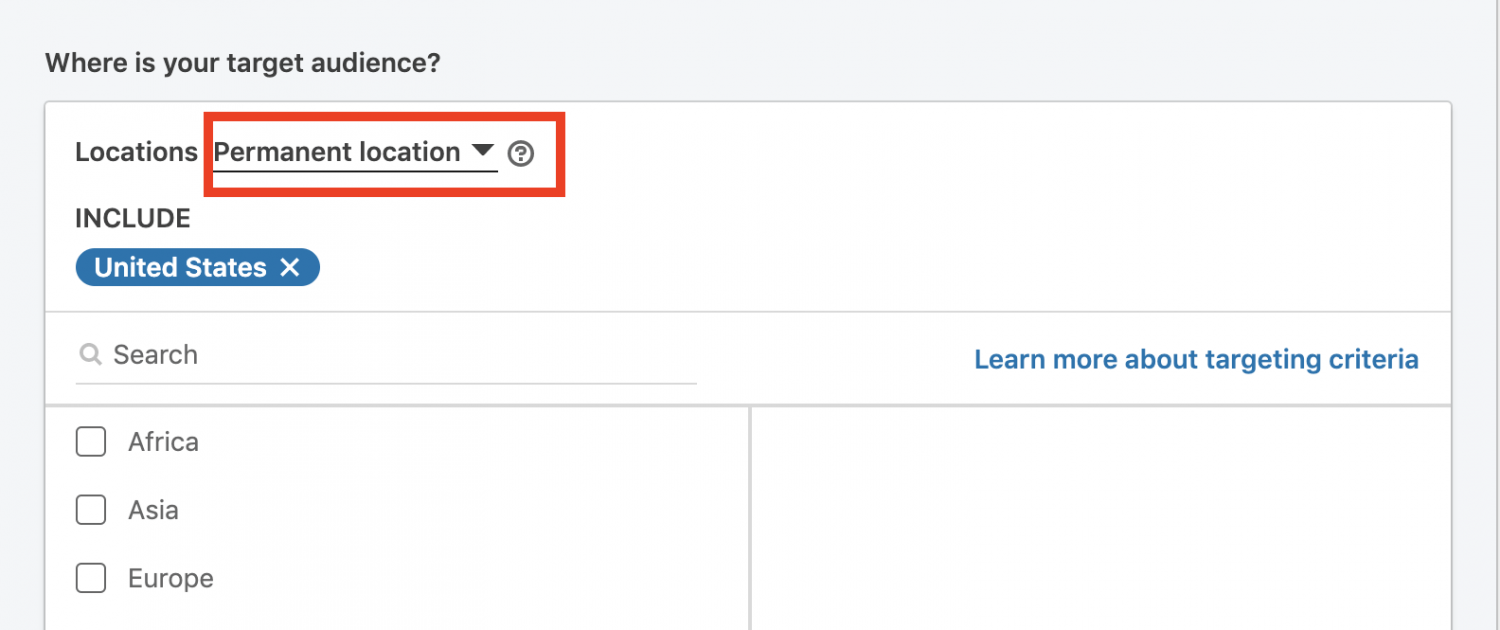 You'll be able to target by "Permanent" or "Recent and Permanent" location.
I recommend that you use Permanent all the time unless you are open to explore targeting outside the chosen locations.
The only reason I can think of to use "Recent and permanent" option is when you have a brand awareness objective.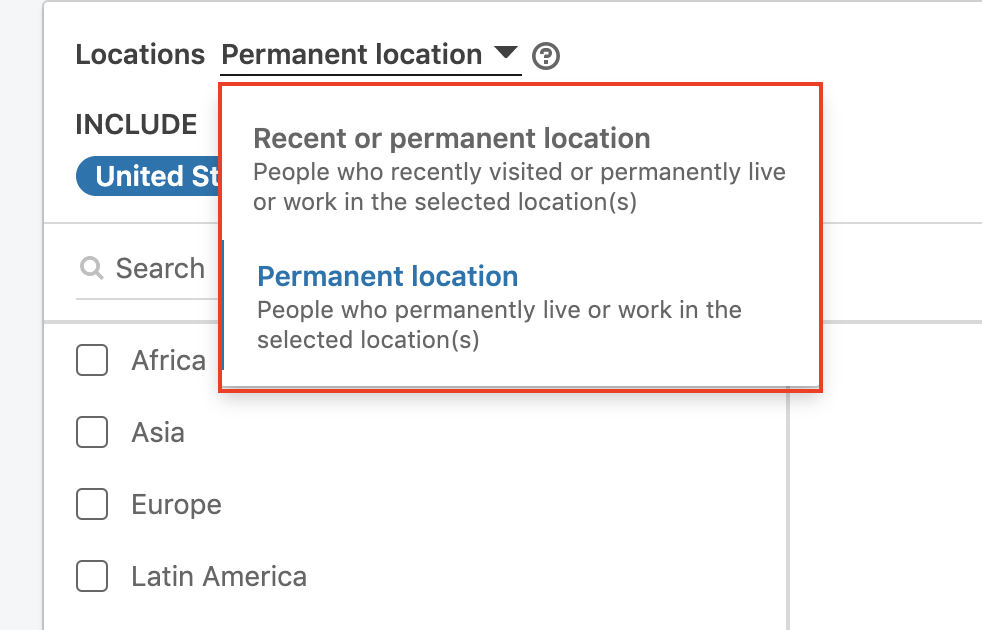 LinkedIn tracks a user's location through
User's IP Address
User's input into their LinkedIn profile.
Pro Tip:
Aim for an audience size of 80k-100k if possible. That gives you enough scale and accuracy of targeting. Keep testing. I've also ran ABM campaigns that had 30-40k audience size and it gave great results. Just ensure you do not hyper-target. That would kill your campaigns even before it starts.
Why is selecting your audience profile language important?
LinkedIn continues to update the profile languages available for targeting.
Very important note: Your landing page, creative and text has to follow the same profile language that you select. LinkedIn is strict on this and will reject any ads that do not comply.

Key reason here is for member's experience. If you're targeting a Japanese language profile, the expectation is that they see a Japanese language ad and landing page.
Take note that certain languages like Thai and Vietnamese for the APAC market are not ready.
For the latest updates on supported languages, check out the LinkedIn help center here.
If you are advertising to China, there's a totally different China advertising requirement too.
What Professional Targeting should I use?
Here's where the real power of LinkedIn comes in.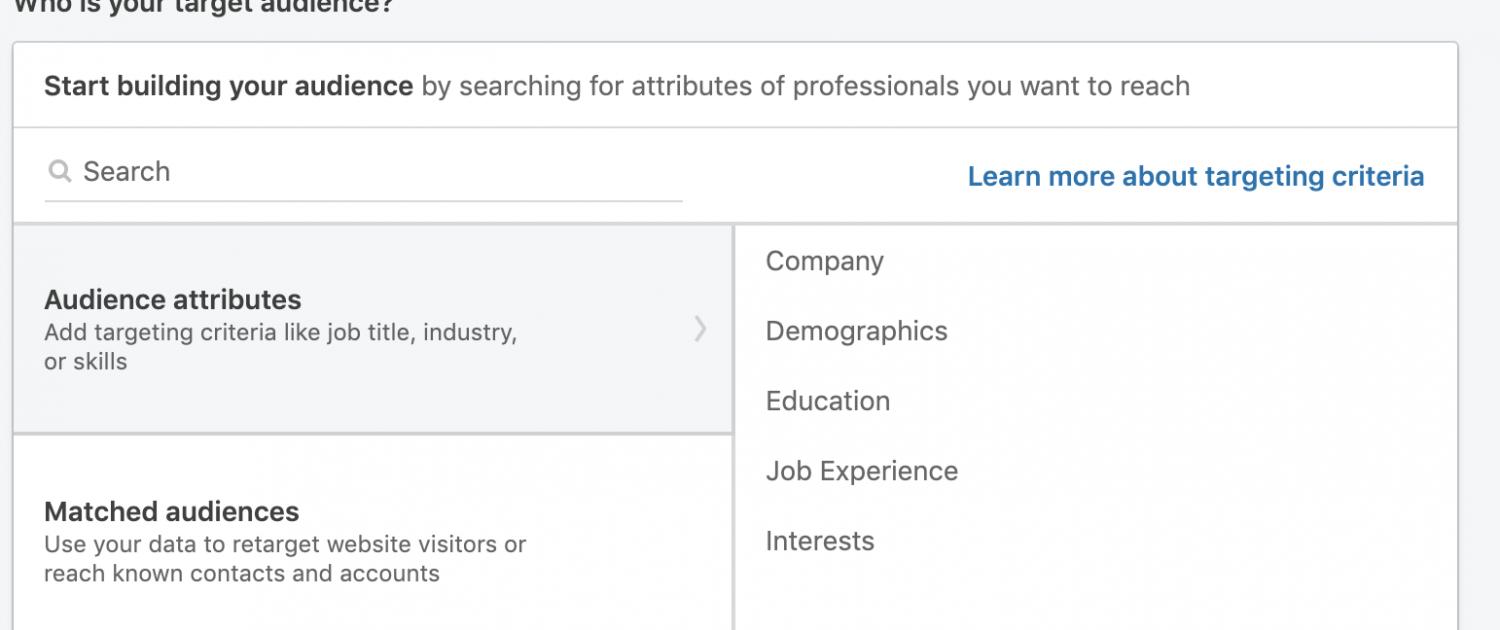 These are the professional attributes that are available for targeting.
If you're a brand new advertiser, I recommend using the following:
Job Function (Or Member Skills)
Company Size
Job Seniority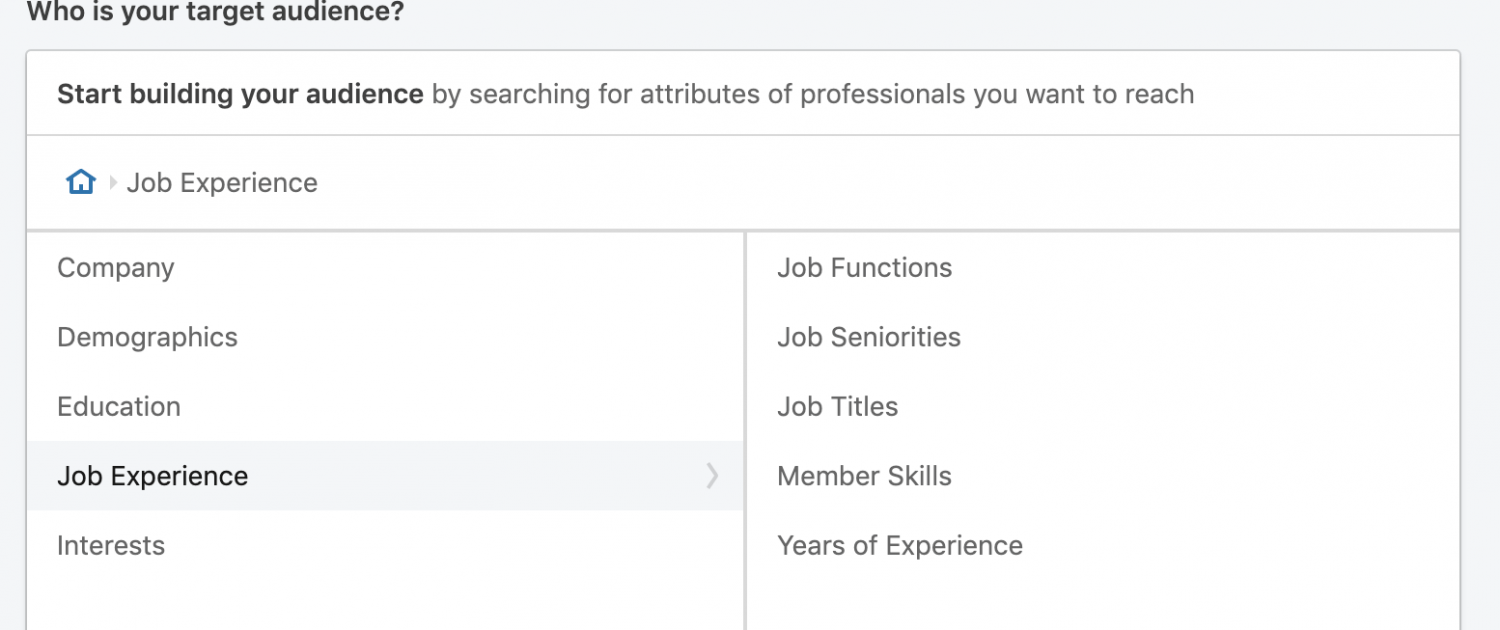 This should cover most businesses. However, do explore the targeting yourself.
If you have a certain industry you'd like to target, that's possible too.
Alternatively, you may retarget your website visitors or reach known customers/accounts. You can do this through Matched Audiences.
You'll have 3 options for matched audiences.
Contact List Upload
Account List Upload
Website Retargeting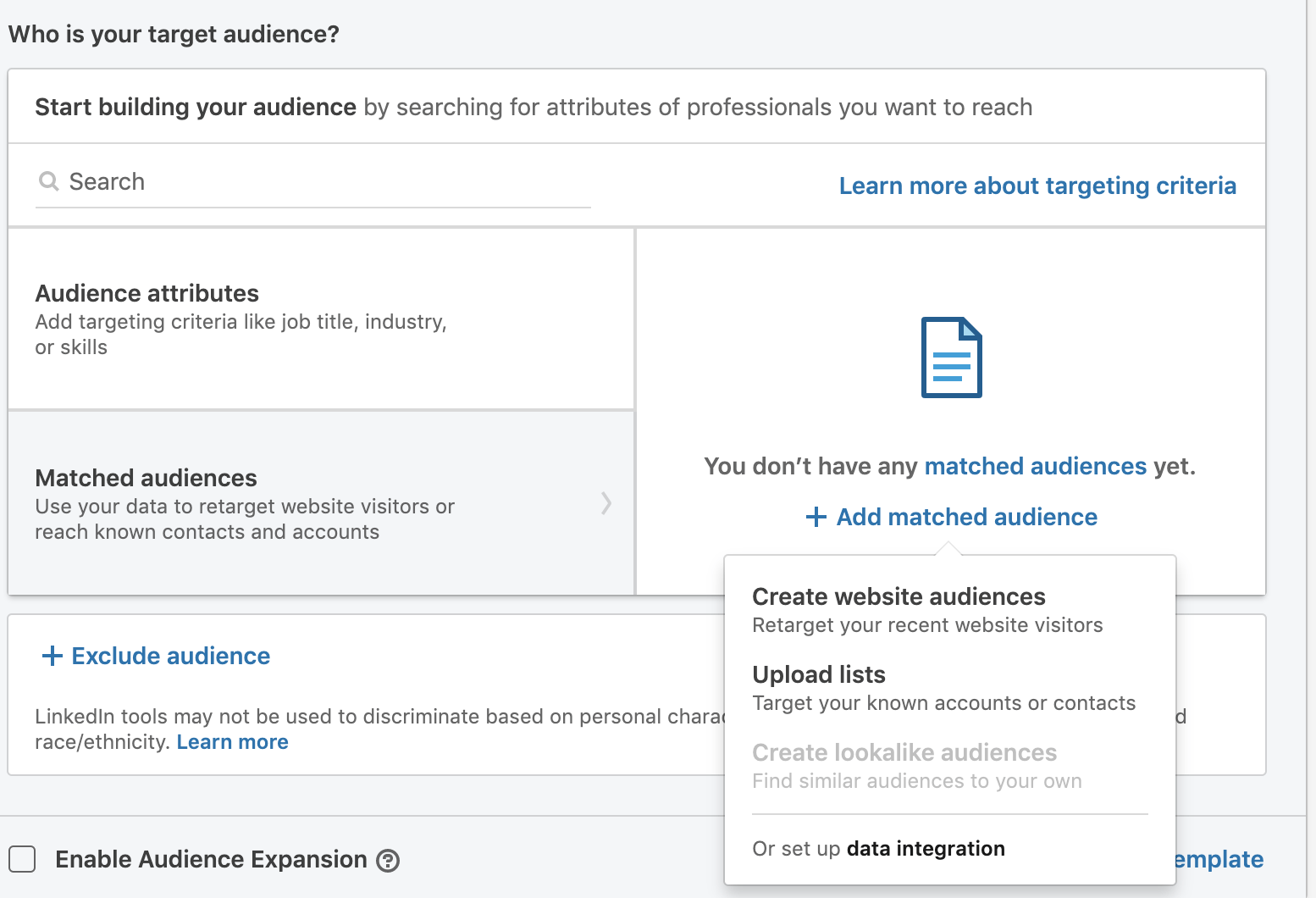 Uncheck the "Enable Audience Expansion", if it's a new campaign.
Keep the audiences as accurate as possible during this early phase.
Turn on audience expansion only when you have ran a campaign for some time and it's performing well.
Another reason would be that you're running a brand awareness campaign. Other than that, there really isn't a need to enable audience expansion.
Exclusions are just as important as inclusions in your targeting.

The common exclusions would be your own employees, companies and also competitors.
If you're unsure about what other exclusions to include, you can still run the campaign.
Use the campaign demographic report/data during the live campaign to exclude irrelevant targeting (more on this in "measuring ROI" later)
Pro Tip: Always save your audiences after creating with the "Save as Template" function. This will save you time when creating other campaigns with similar audiences.
The different ad formats on LinkedIn
Keep in mind that you might not have all these options depending on the objective you choose.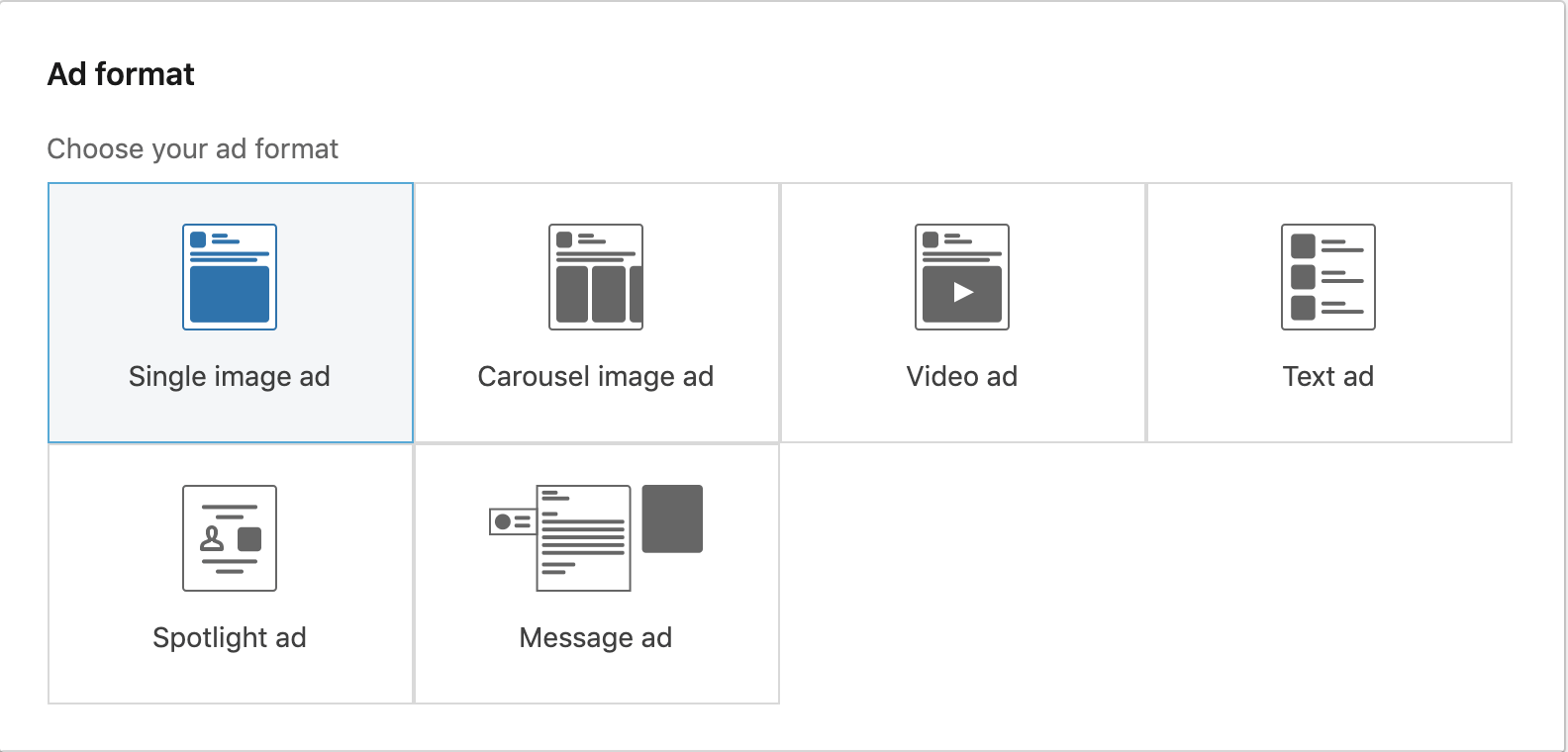 Sponsored Content (Single Image Ad)
These are promoted posts that appear on a user's LinkedIn homepage feed.
This is the most used & effective ad unit. The feed is probably the first thing users see.
As you can imagine, it's prime spaces that your ads will appear in.
It is also the most expensive because most advertisers would choose this ad unit. Expect higher CPC.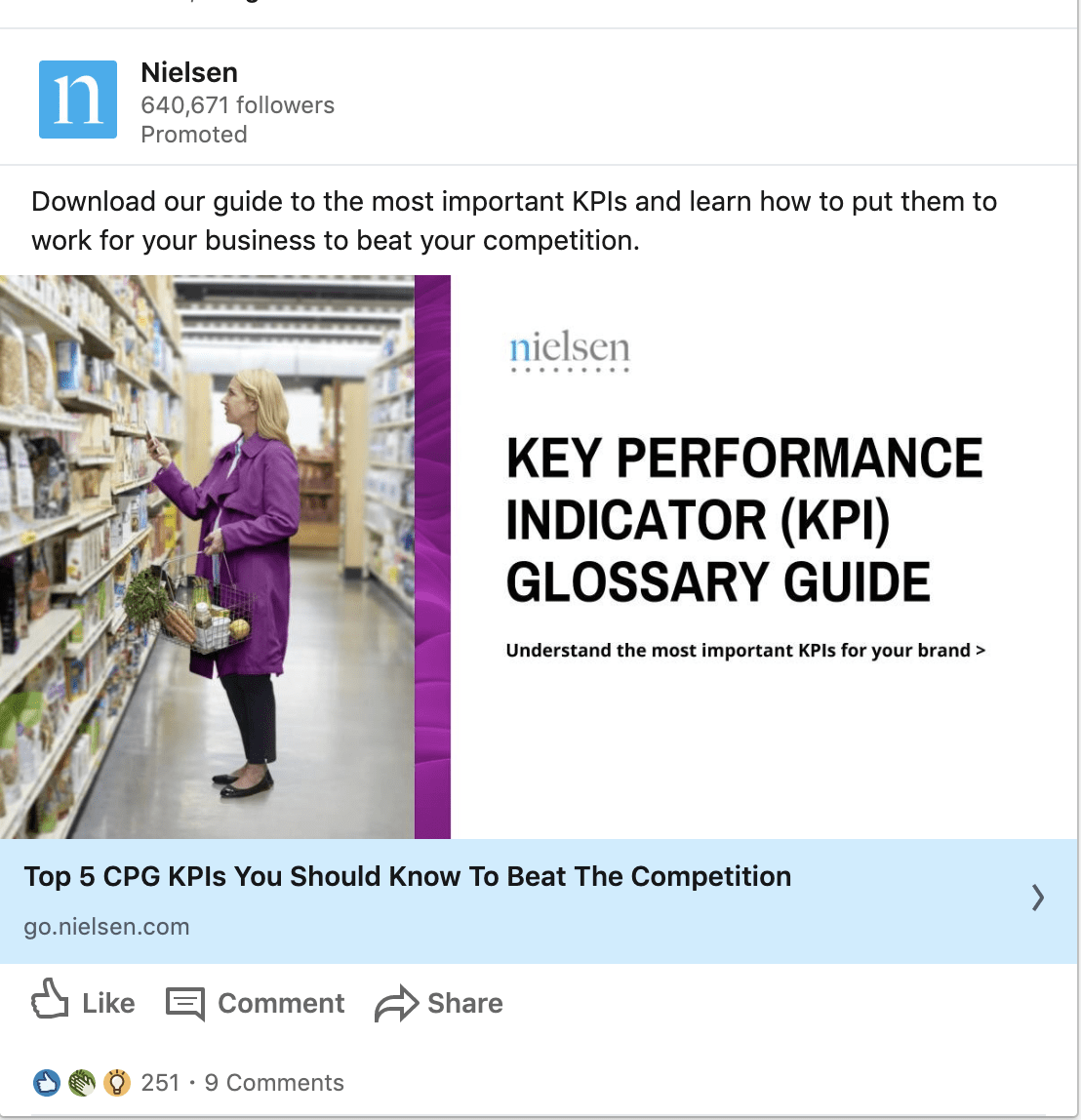 Sponsored Content (Carousel Image Ad)
This also appear in a LinkedIn's user homepage feed.
The difference here is that you can add multiple images (or as they call it, Carousel cards) to bring your brand story to live.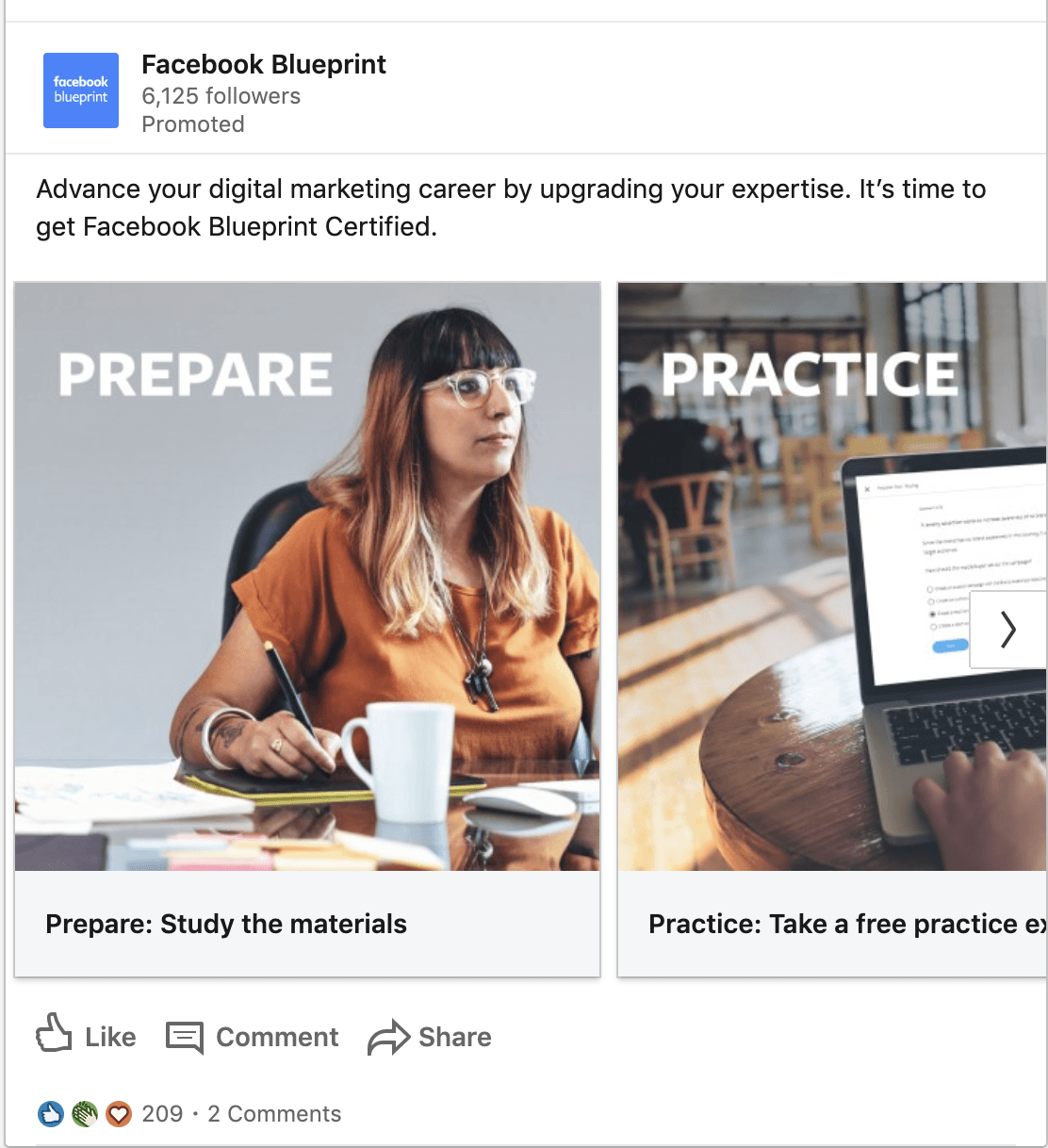 Sponsored Content (Video Ad)
This appears on the LinkedIn newsfeed. Video makes your brand and offers more dynamic. Brands can also use videos to show interesting stats, facts and figures. It doesn't always have to be about emotional stories.
There are plenty of opportunities to get creative with videos.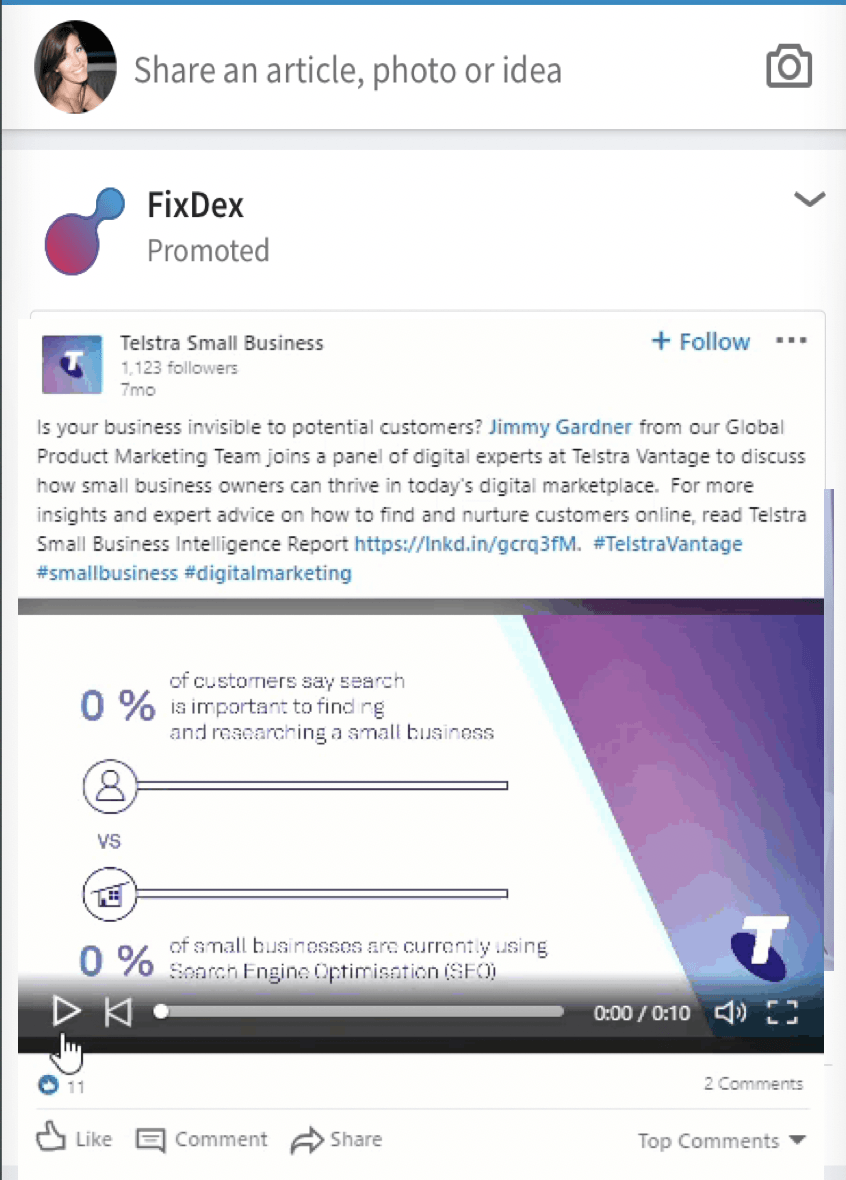 Message ads (Also known as InMail)
Message ads are delivered directly to your audience's LinkedIn inbox. That's a personal space and usually gets high open rates. Keep it short, concise and always remember to be direct with your offer. Follow the "What's in it for me" mantra when you design your message copy.
The big differentiator of message ads is the frequency cap. LinkedIn has a 45-day frequency cap which means a user can only receive one marketing InMail in 45 days.
This means that you have blocked your audience's inbox from your competitor as well. Keep in mind that the same can be done to you, where you are blocked out.
Bid aggressively when you're using message ads. Get into your audience's inbox as soon as you can.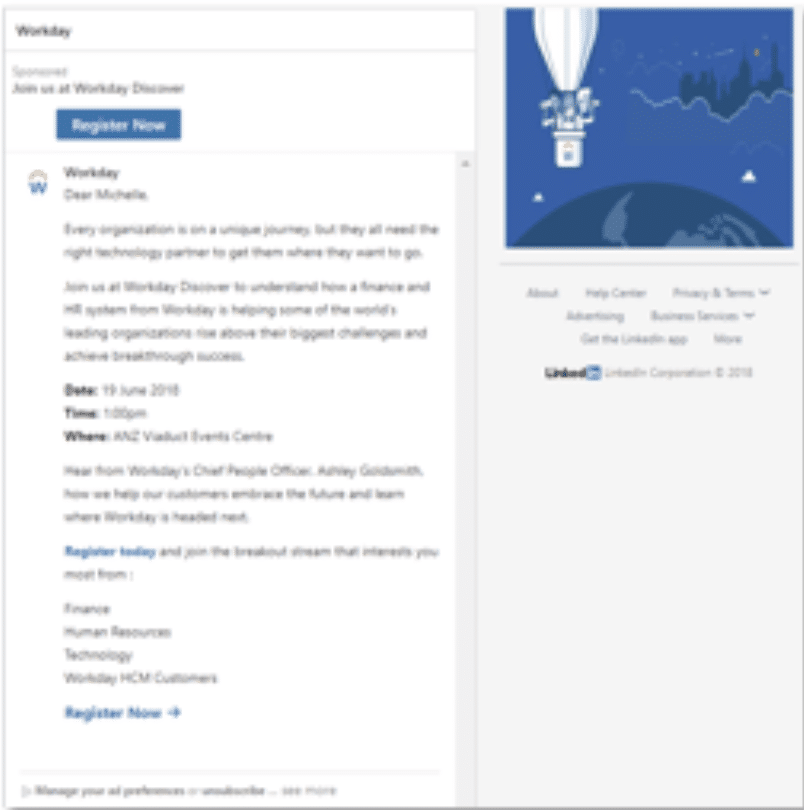 Text Ads
Text ads are the lowest cost inventory on LinkedIn. It shows only to desktop users.
You can find text ads at the top of your LinkedIn page or on the side rails.
Text ads isn't effective alone. It probably won't move the needle if you are running a lead generation campaign.
It is a better brand awareness tool because it could drive impressions at a much lower cost.
If you're starting out on LinkedIn ads, don't use this. You won't see immediate results, get discouraged and quit 🙂

Selecting the right bidding amount and strategy
Your advertising cost on LinkedIn is based on a bidding auction model.
You'll have to bid aggressively against other advertisers who are targeting the same audience.
As you can see in the image, your competitors in the auction are no longer just from the same industry.
They could come from anywhere and any industry. So bidding smartly and competitively is key.
In the bidding section you'll see 3 options available.

When to use Autobid?
When you select automated bidding, LinkedIn aims to get you your objectives at the lowest cost.
LinkedIn will take full control of the bidding.
That might sound great, but this model is based on machine learning and if LinkedIn doesn't have enough historical data, the system wouldn't be able to optimise well.
This means if you're starting a new campaign or if your ad account lacks data, I wouldn't recommend this option.
Use automated bidding if you're not sure what you're willing to pay for per click.
Autobidding is also good when you are running an awareness type of campaign or just trying to get a higher reach.
Take note that Autobid operates on a Cost-per-impression (CPM) model.
When to use CPC:
Almost 90% of the time, I recommend you use this on LinkedIn especially if it's a new campaign. CPC means Cost Per Click. This means you only pay when someone clicks.
Of course, the type of chargeable click differs based on the objective you've chosen as covered in the previous section.
This option gives you max control of your bids. Great for budget control.
The biggest mistake I observed is that advertisers get carried away and bid extremely low.
It doesn't work that way. If you bid too low, your ads won't deliver. If your ads are not delivering, you won't get data or results in early.
Then you might think LinkedIn doesn't work when it because you used the wrong bidding strategy.
If it's a new campaign, front load your ads and bid 20% above the recommended bid.
Once you have enough eyeballs and data at 15,000 impressions, you can start lowering the bid if you notice you're paying lesser.
Likely, you'll end up paying lesser than your bid to the second price auction.
Bidding high at the start gives you a sense what you can optimise early.
Your daily budget plays a big role too. Aim for at least 10 clicks a day. So if the bid is $10, you'll need a daily budget of $100.
Usually, you'll need to aim for 10 clicks and above. If you get too little clicks a day, it defeats the purpose of advertising.
When to use CPM:
The only time I use this is for brand awareness. CPM means Cost Per Mile. Which means how much an advertiser pays for 1,000 views on their ads.
Brand awareness campaign alone for B2B will get you fired from your job. In most B2B companies, lead generation is the main KPI.
So where does brand awareness fit in?
It might be counter-intuitive but running brand awareness does lower the Cost Per Lead (CPL). The trick here is running it in conjunction with a lead generation campaign.
Many brands have seen great results if they split their total marketing budget by 60:40 where 60% goes towards lead generation and 40% goes to brand awareness.
There is no hard rule on this. I personally would recommend you go 90% lead generation and 10% brand awareness if you are just starting out.
You'll need to get quick wins by generating leads so you can secure more budget. Which is why the percentage is skewed more to lead generation.
Tweak this according to where your business is now.
Measuring, Reporting & Analytics on LinkedIn
How would you know if your LinkedIn ad campaign was a success?
That's where measurements and analytics come in. We live in a world where there's plenty of data. It tells you the health of your campaigns.
You'll know exactly what's not working and what needs improvement.
The very first thing you'll need is to identify what you need to measure. Measuring the right metrics that align with the objective is key.
Here's a quick guide on what you could measure based on your objectives.
Awareness
Reach
Impressions
Video Views
CPM/CPV
Number followers
Number of posts
Social Engagements (Likes, Shares and Comments)
Video Views
Clicks
% Account Engagement
Consideration
Number of website visits (driving web traffic)
Conversions on site
CTR
Lead gen form open rates
Video completion rates
Conversion
Number of leads
Quality of leads
Cost per lead
Cost per conversion
Transaction Value
Churn %
Renewals
The common performance metrics that you'll track daily/weekly are:
Clicks
Impressions
CTR%
Spend
CPL
Lead gen form open rates (Conversion objectives)
Lead gen form completion rates (Conversion objectives)
Use your LinkedIn campaign dashboard as your source of truth. Their most recent update has made it extremely easy for advertisers to get the metrics they need.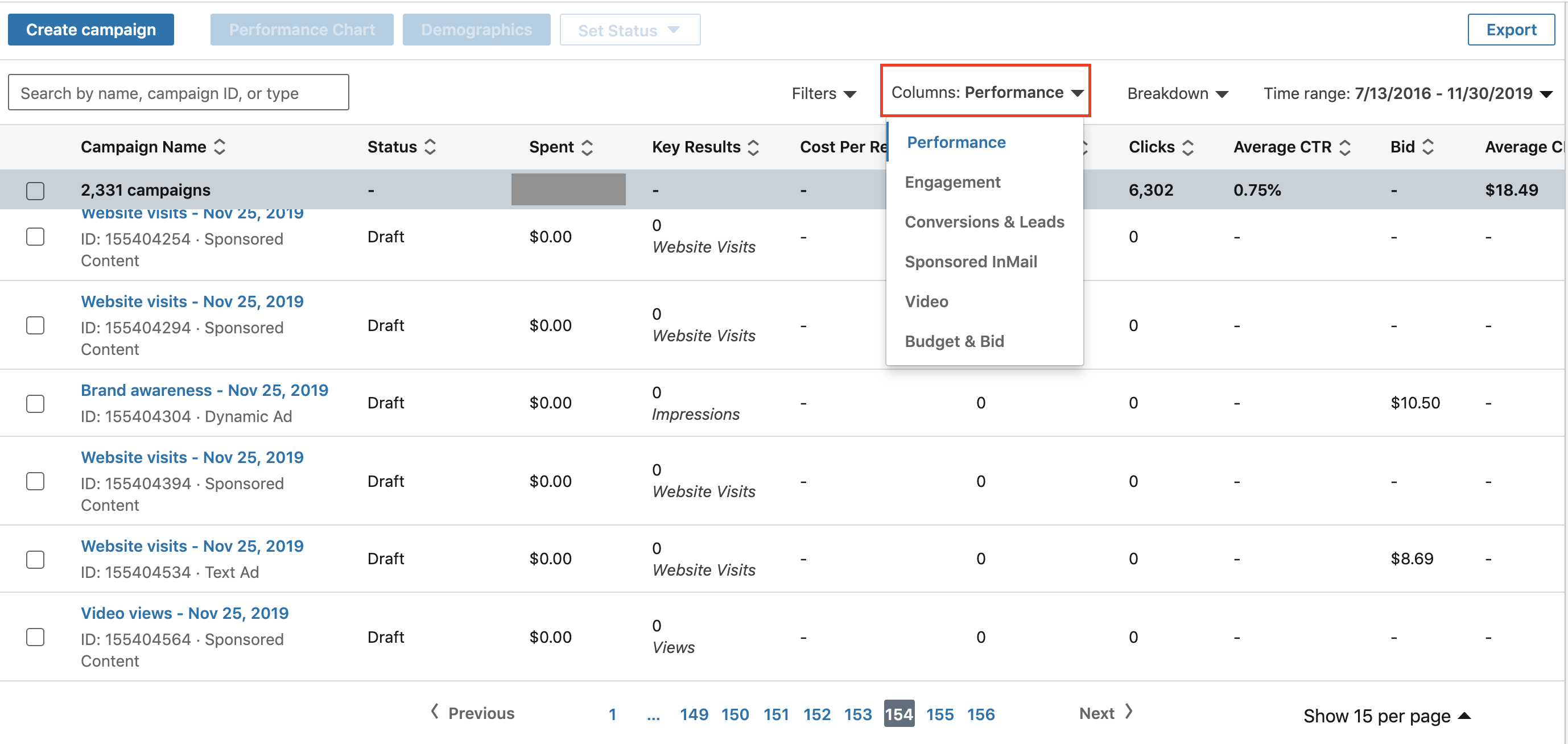 Click on "Columns" and select the right view. All the metrics you need to care about will appear based on the objective you've chosen.
You can also view these metrics at different classifications. If you're viewing on a campaign group, it will show you the consolidated results of all the campaigns within that campaign group.
The same applies for the ads within each campaign.
So it really depends on how macro or micro you need your data to be.
If you need the raw data, you can also export it through the "Export" button on the right.

Most of the time, you'll usually use the campaign-level reporting.
For more advanced tracking and integrations, you can use Google Campaign Manager.
Important: You'll need to install the LinkedIn insight tag to track conversions. It is a lightweight javascript tag that helps you track conversions, retargeting and provides many other free web analytics. The keyword here is "Free". So why not install it.
Another big differentiator for LinkedIn analytics is their ability to tell you which professionals and companies are visiting your site and engaging with your ads.

You can find both your campaign demographics and your website demographics in the illustration above.
Why are these demographics important?
It'll show you the full story of your audience. You will know which audiences are performing well and double down on it. Alternatively, you may start excluding audiences that are not performing well.
LinkedIn Ads Benchmark
Although there are many nuances like regions, industries, audience, you may follow these as a base guideline:
Sponsored content
CTR: 0.3%
Engagement Rate: 0.5%
Message ads
Lead Gen Form open rates:
Open rates: 5-10%
Completion rates: 10%
Video ads:
View Rate: 28%
Engagement Rate: 1.4%
Master LinkedIn Advertising
While the majority of Digital marketers are obsessed with Facebook, Instagram and other channels, they are missing out on this huge opportunity in LinkedIn. If you're in a B2B or a high-end B2C business, LinkedIn is the place for you.
If you're looking to grow your expertise as Marketers, being an expert in LinkedIn ads will make you stand-out. There's an oversaturation of Facebook marketers. If you want to leapfrog others, you'll need a unique yet useful skill. That can be LinkedIn advertising as there isn't enough real experts yet.
Appendix
Why you should advertise on LinkedIn Now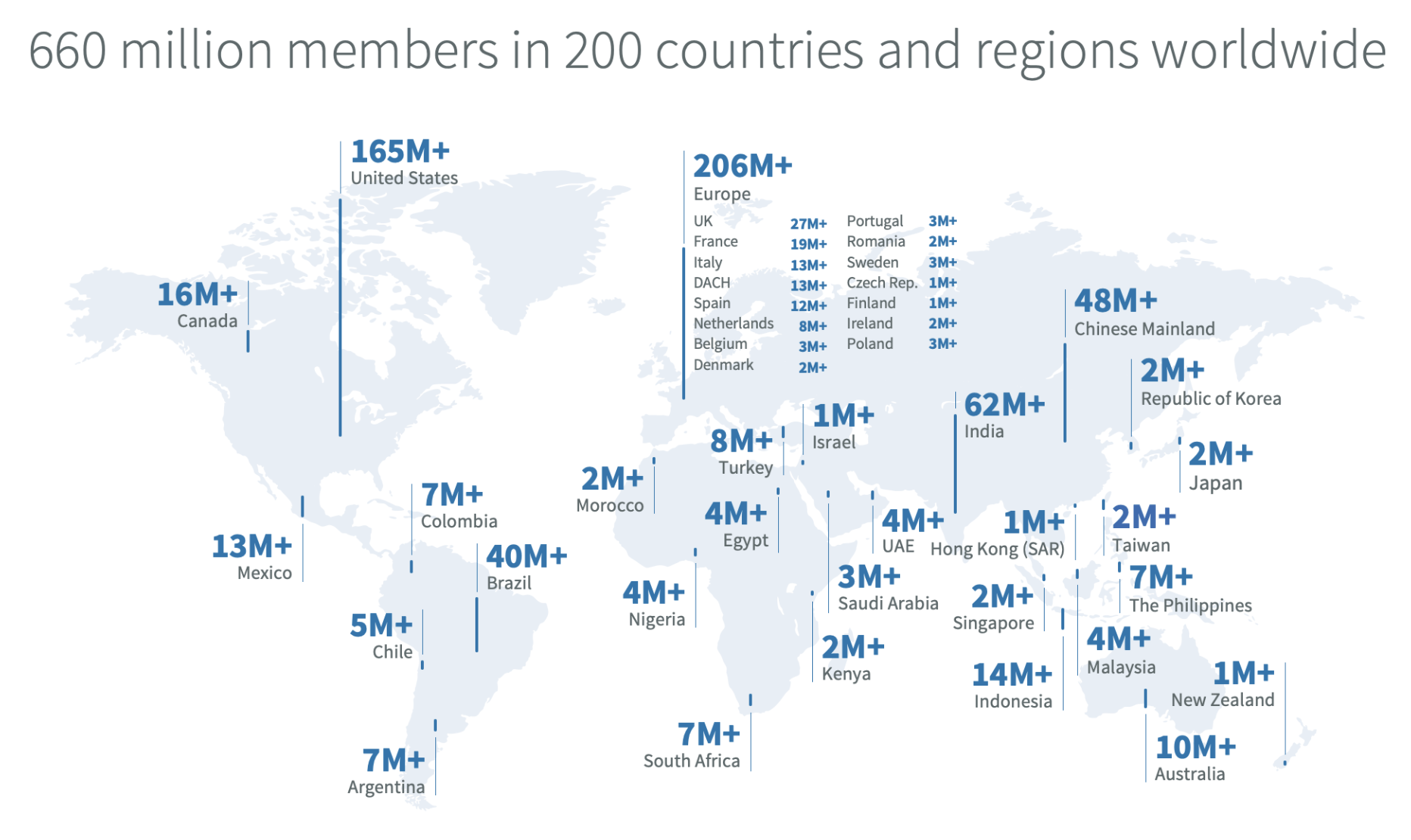 LinkedIn ad benchmark
Creating a LinkedIn campaign
https://www.linkedin.com/help/lms/answer/76257
Identifying the right LinkedIn ad objective to use
Objective-based advertising brief
Chargebility of OBA
Cost is affected by 3 main variables – Targeting, offer & creatives. The cost differs greatly from company to company. If you have a great offer and nailed your targeting, your cost go way below the median.
While freelancing as a LinkedIn Advertiser, I found these cost per conversions to be relatively near the median. Conversion actions vary from webinar sign-up, event registrations, demo requests and whitepaper.
As you can guess, a demo request is going to cost alot more than a whitepaper.
Take these as an indicator and not literally.
I've ran campaigns that achieved a $9 cost per conversion. It all comes down to nailing your targeting, offer and creatives.
As you can see, reaching high-quality audience on LinkedIn can get really expensive. You'll need a minimum of USD3,000 – USD5,000 per month to run an effective campaign.
If your initial start budget is too low, you won't get enough clicks which will result in lesser conversions.
Most companies that spend on LinkedIn ads are able to get ROI because of their high customer lifetime value. Imagine if Salesforce closed a $100,000 annual contract from a lead that came from LinkedIn, that would more than justify the ad spend.
Of course, if your products have low customer lifetime value like t-shirts, toothbrushes, fidget spinners etc, then LinkedIn is probably not the right platform for you.
Another reason companies spend on LinkedIn is for the brand-safe environment. Luxury brands like Chanel, Louis Vuitton (and more) prefer LinkedIn because of it's brand-safe environment and affluent audience.
Building & Construction Industry
– Estimated Cost Per Conversion is $260.00
Consumer Goods Industry
– Estimated Cost Per Conversion is $280.00
Services Industry
– Estimated Cost Per Conversion is $140.00
Education Industry
– Estimated Cost Per Conversion is $80.00
Energy Industry
– Estimated Cost Per Conversion is $70.00
Entertainment Industry
– Estimated Cost Per Conversion is $65.00
Finance industry
– Estimated Cost Per Conversion is $60.00
Hardware & Software Services
– Estimated Cost Per Conversion is $120.00
Retail
– Estimated Cost Per Conversion is $180.00
Internet & Tech Industry
– Estimated Cost Per Conversion is $210.00
If you're interested in learning more about LinkedIn Marketing, we offer a LinkedIn Sales & Marketing Course where you'll learn a lot more.  We also offer a whole array of other digital marketing courses taught in-person in Singapore or online.
Written By: Shaun Lee
Shaun comes from a rich background of B2B sales, social media marketing, demand generation, marketing operations and marketing strategy. Playing a key role in previous marketing agencies, Shaun had the opportunity to consult top brands like Grab, Oracle, Microsoft, Salesforce, NUS (and more) with their online marketing & go-to market strategy. With his vast experience in the industry, he is a trainer for the Digital Advertising, LinkedIn Sales & Marketing, and Website Optimisation (Conversion Rate Optimisation) courses here at Equinet Academy.