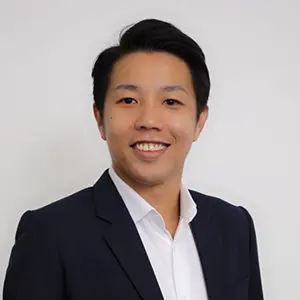 Zhong Li is the founder of Mikangle, a digital transformation company that focuses on advisory, training, and investment. He is also the Co-founder and now Advisor of Finty, an online financial marketplace that was acquired by an Australian firm, 15 months after the company was launched. He previously was the Managing Director and led the growth and development of the startup, which included overall strategy, operations, bank partnerships, technology requirements, marketing, and user experience.
His extensive digital and marketing experience of over 15 years has honed his ability to deliver digital solutions across technology and financial industries. Prior to helming business growth efforts at Finty, Zhong Li was the Vice President of Ebusiness at OCBC Bank, heading up digital sales and performance management. His role included managing ebusiness revenue, cost savings initiatives and usage growth across digital channels and platforms. His previous roles included Senior Manager, Digital Marketing & Ecommerce at Trend Micro, overseeing APAC online consumer business. He was also the Digital Marketing Lead at Yahoo!, where he developed digital strategies, campaigns, and programs for SEA region.
As part of his interest in the internet space, he gives training at academies, speaks at conferences, also advises startups and SMEs on digital business. He holds a bachelor's degree in Marketing and an MBA from the University of Adelaide, as well as the WSQ Advanced Certificate in Training and Assessment (ACTA) from Institute of Adult Learning.
"Zhong Li is very genuine in helping his students in various digital marketing problems even outside of the classroom. He even makes time to reply to emails and calls. The support is important to us as we come from different backgrounds, hence different problems require different approaches to solve it. I personally hope that Equinet Academy will continue to engage such devoted trainers."
Tan Yu Hui, Gina
"Zhong Li is a very engaging and personable trainer. He is very thoughtful and assuring with his teachings throughout the entire course. He is able to relate real life examples when the topics are more challenging and often offer extra tips and guidance to the group. His constant willingness to share and to go over and above the course to reach out to the students is commendable. I have gained a better perspective and understanding on DMS. Thank you very much Zhong Li."
Oh Siew Bee
"Li was very engaging with students and the material during the course, he was especially aware of students that are not very vocal (me) and made the effort to ensure that we knew that we're able to reach out whenever. As a person that learns from example and exercises, key learning topics were easily understood and very well taught through all the examples listed and given."
Tan Yu, Lynn
"Digital Marketing Strategy was the first course I took at Equinet Academy. I was lucky to have Zhong Li to be the first trainer to catapult me into pursuing the Certified Digital Marketing Strategist Programme. Zhong Li was a good listener and has a friendly demeanour which makes him extremely approachable as a teacher and mentor. I enjoyed his sharing of real-life work experiences and how he kept his lessons fun but effective at the same time. Within months of completing the programme at Equinet Academy, I have also successfully made a career pivot and am currently putting my new skills into practice."
Marjorie Sim
Courses Zhong Li Facilitates:
Articles Written by Zhong Li:
Learn Digital Marketing From The Best
Get yourself certified, apply actionable digital marketing strategies at work and see results.