Stark Increase in Engagement and Connections for LinkedIn Personal Brand Profile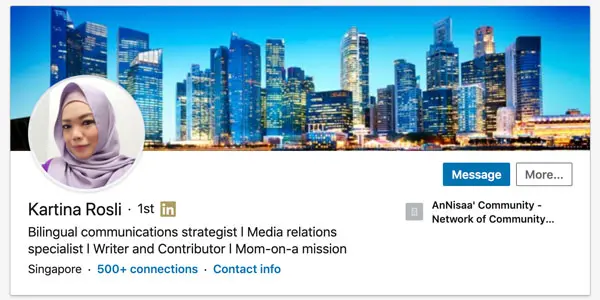 BACKGROUND:
Kartina Rosli is a bilingual corporate communications strategist, media relations specialist, freelance writer and a Singapore contributor with Marketing In Asia, and a mom on a mission advocating for the acceptance of special needs children.
CHALLENGES FACED:
Kartina started out with limited knowledge on how to utilise social media to increase awareness for her personal brand. Even though she knew it was necessary to create engaging content to reach the right target audience and build a strong following, she was held back by the fear of producing videos, animations, and infographics she thought required the use of complicated software coupled with design expertise.
ACTIONS TOOK:
Upon completing her social media marketing course, Kartina did not wait long to practice what she had learnt. Thus, she embarked on a mini project to produce her motivational videos on LinkedIn, Facebook and Instagram pages using her brand name, Tin's Daily Vibes and Fresh Starts with Kartina – Monday Motivations. Throughout this discovery phase, she had experimented with Carva and Crello and created posters and inspirational messages on her personal journey.
She understood that while post views were climbing, she also wanted to ensure there were new followers and engagements such as comments and shares. She persisted and experimented on the app-building videos and produced her first video in about a week. Within a month, she diligently produced at least one video per week using the Lumen5 app. This resulted in post engagement growth from 1 like and 80 views, to 25 likes, 24 comments and 821 page views. She had also begun to engage more LinkedIn connections that share common interests and in about 6 weeks, her latest article had garnered to 181 likes, 25 comments and 13 shares. Within the same month, she had also engaged with many thought leaders, influencers, writers from all over the world including India, UK, US and Malaysia.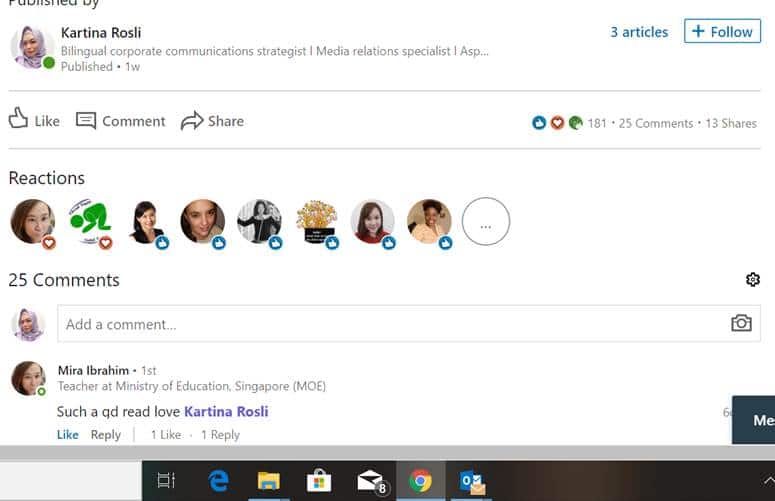 Within one month, she had made over 80 new connections since she started focusing on building her brand online. She had several loyal followers who consistently engaged with her articles and videos. Other than increasing her brand visibility online, she also joined various professional groups on LinkedIn Singapore and built connections that supported her for an event organised by an acquaintance of hers.
"LinkedIn is definitely a powerful tool and once you managed to build your connections and followers, you will achieve your goal. My goal was – while it was meant to be a source for new job opportunities, it was also to build connections and create followers for my channel." – Kartina Rosli
KEY TAKEAWAYS:
Consistency is key when it comes to social media marketing. Creating valuable content and engaging with your followers regularly will help you to achieve your social media goals.
Learn Digital Marketing From The Best
Get yourself certified, apply actionable digital marketing strategies at work and see results.