Digital Marketing Team Structure
Understand the career pathways a Digital Marketer can progress towards.
Digital Marketing Team Structures and Organisation Charts
Digital marketing transformation is the shift from a more traditional marketing approach to a digital-first mindset. Traditional brick-and-mortar businesses and multinational corporations are adopting digital team structures to optimise marketing spend and improve marketing ROI through developing and implementing effective digital marketing strategies.
Even companies that have been outsourcing their digital marketing campaigns have started to reallocate their budgets to train and equip new and existing marketing employees with digital marketing skills.
What is a Digital Marketing Team?
A digital marketing team consists of several digital channel specialists, led by a VP/Head of Digital or Digital Marketing Director. Digital specialists may include SEO Specialists, Social Media Managers, and Performance Marketing Specialists. Lead roles may include Chief Digital Officers, Digital Marketing Directors, and Digital Marketing Managers.
In larger organisations, the digital team may function as a separate department from the traditional marketing team, with the digital lead reporting to the Head of Marketing. Teams may also be structured by the following models:
Centralised
Decentralised
Integrated
Geographical
Product-based
Market-based
Funnel-based
Process-based
Flexible
Functional
In smaller organisations, Marketing Executives may be expected to integrate and execute both traditional and digital marketing strategies and/or manage a digital agency, overseeing the development and implementation of in-house and external marketing campaigns.
Essential Roles Within a Digital Marketing Team
Essential roles within a digital marketing team include:
Digital Marketing Director: The Digital Marketing Director strategizes and leads all digital marketing initiatives.
Digital Marketing Manager: The Digital Marketing Manager implements and manages digital marketing campaigns in-house or through digital agencies.
Digital Marketing Executive: The Digital Marketing Executive executes the day-to-day digital marketing activities.
Digital Account Manager: The Digital Account Manager resides in a digital agency and functions as a consultant and project manager, communicating with the client and digital marketing specialists.
Content Marketing Strategist: The Content Marketing Strategist develops the overall content marketing strategy for the business, from content ideation to creation, distribution and evaluation.
SEO Specialist: The SEO Specialist monitors a website's organic search rankings and ensures the website is optimised to rank highly for target keywords.
Digital Media Planner: The Digital Media Planner plans the digital advertising campaign channels, budget, and monitors the execution and performance of all paid media campaigns.
Ad Operations Manager: The Ad Operations Manager oversees and implements the day-to-day digital advertising campaigns across various digital advertising platforms such as Google Ads, Facebook Ads, and DoubleClick.
Performance Marketing Specialist: The Performance Marketing Specialist manages the SEO and SEM campaigns to drive leads and sales to the business.
Social Media Manager: The Social Media Manager plans and manages the overall social media marketing strategy for the business.
Social Media Community Manager: The Social Media Community Manager interacts with members of the community and generates reports on the overall sentiment of the community to the Social Media Manager.
Digital Marketing Analyst: The Digital Marketing Analyst analyses the performance across all digital channels and generates comprehensive reports that provide recommendations for improvement.
Email/Marketing Automation Specialist: The Email/Marketing Automation Specialist manages and implements the marketing automation workflow and email marketing campaigns.
Copywriter: The copywriter writes product copy, blog content, ad copy, and any other content requested by the teams.
Graphic Designer: The Graphic Designer designs creatives for digital ads, social media content, blog content, and any other graphics requested by the teams.
Web Developer: The Web Developer supports all website development and customizations required by the marketing teams.
How Digital Marketing Teams Can Be Structured
There are a number of ways to structure a digital marketing team. The way in which a digital marketing team is organised depends on the size of the organisation. The larger the organisation, the more complex the team structures may be.
Each role should be T-shaped, understanding a broad range of disciplines but with in-depth knowledge and skills in one or two specific disciplines.
For example, a Social Media Manager should understand how a social media marketing plan fits into the overall digital marketing strategy. We refer to IKEA's photo tagging contest. While planning to launch a viral campaign on social media, one should also strategise how to pitch the case study to journalists and acquire backlinks (an off-page SEO technique) to the website at the same time.
Digital Marketing Team Structure for Small Companies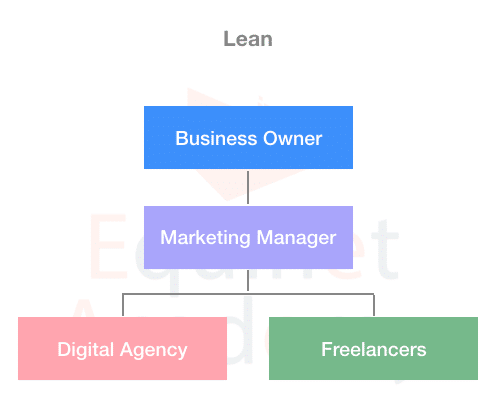 Business Owner
Marketing Manager
Digital Agency/Freelancers (external)
In a small company where there is only one marketing personnel or a business owner running a one-man show, he/she is expected to manage all marketing activities in the company.
Realistically, however, it is unlikely for a one-man department to be able to execute marketing campaigns across all digital marketing channels. More than likely, they will only be able to focus on 2 or 3 digital channels, such as SEO, Social Media, and Display. They will also require the support of a digital marketing agency or freelancers for other digital marketing initiatives such as marketing automation, web development, and content marketing.
Digital Marketing Team Structure for Medium-sized Companies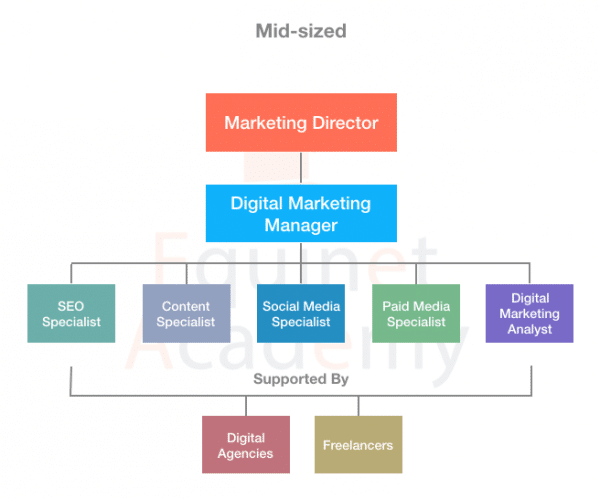 Marketing Director

Content Specialist
SEO Specialist
Paid Specialist
Social Media Specialist
Digital Marketing Analyst

Digital Marketing Manager

Digital Agency (external)
For a mid-sized team of 3 to 7 marketers, the marketing department is able to benefit from having T-shaped digital marketing specialists designated to focus on one or two digital channels.
The specialists report to the Digital Marketing Manager/Digital Marketing Director and work together to develop and implement integrated marketing strategies.
Unless the company has in-house content creators, graphic designers and web developers, much of the work may still need to be outsourced to digital agencies and/or freelancers, e.g. for content writing, graphic design, web development projects.
Digital Marketing Team Structure for MNCs
Multinational Corporations or MNCs are classified as having >200 employees and an annual turnover of >$100 million.
Due to their wide range of product offerings, regional offices, and multiple market factors, large corporations tend to have more complex digital marketing team structures:
Centralised
Decentralised
Integrated
Geographical
Product-based
Market-based
Funnel-based
Process-based
Flexible
Functional
Each structure has its own unique features, advantages and disadvantages. It is important to note that some of the team structures, such as the geographical, product-based, market-based, funnel-based, and process-based, may also operate on a centralised, decentralised, or integrated (decentralised + centralised) model.
Centralised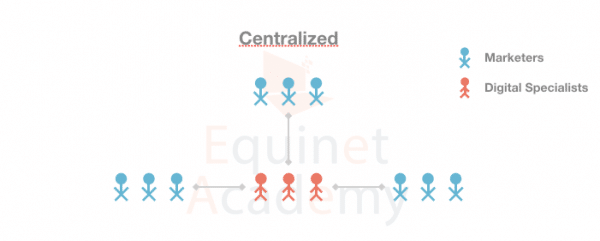 The centralised model is where digital specialists are concentrated within a digital department. All digital marketing campaigns are run through this team, while other marketing campaigns, such as field marketing, PR, and print media, are run by separate non-digital marketing teams.
This was a common response to the rapid digital wave, and businesses formed new digital teams quickly to adapt to the digital economy.
Pros:
Efficient method to "deal" with the rapidly changing digital landscape by setting up new digital departments as opposed to training existing marketing teams on digital marketing
Digital marketing experts are assembled in a central department, resulting in the efficient exchange of ideas and effective implementation of digital marketing campaigns
Non-digital departments can benefit from digital strategy development, training, and digital campaign implementation support from the digital team
Cons:
Difficulty in integrating traditional and digital marketing approaches due to siloed structure
Inconsistent customer experience across marketing channels (traditional and digital)
De-centralised

The decentralised model is an alternative model where digital specialists reside in different product/geographical teams without a central digital management team.
This model is common in mid to large-sized companies, where a few digital specialists in each regional/product team are given autonomy to launch their digital marketing initiatives.
Pros:
Efficient implementation of digital campaigns (e.g. creation of microsites, launching of digital advertising campaigns, SEO, etc.) as there is no central digital team to report to or request approval
Cons:
Limited in terms of timely coordination and central control, resulting in inconsistent messaging and branding
Digital specialists face challenges in pushing for digital initiatives due to a lack of buy-in from team leads and members and limited understanding of potential returns from digital marketing efforts
Integrated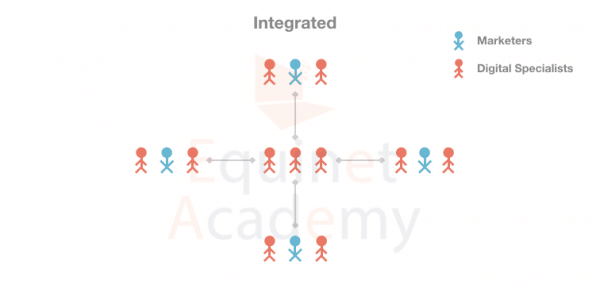 The integrated model combines both centralised and decentralised models where there is a central team of digital experts overseeing the overall digital marketing strategy, providing training and support for key areas in digital marketing (e.g. technical SEO, Google Tag Manager, marketing automation) that are not executed by individual teams on a day-to-day basis.
Pros:
Better scalability, especially when marketers are T-shaped and are able to take on multiple complementary roles
Decision-making is streamlined as digital lead roles report back to a central digital team that decides on the overall digital marketing strategy
Cons:
Teams may be organised in a complex manner with overlaps in job scopes, resulting in some productivity loss
Geographical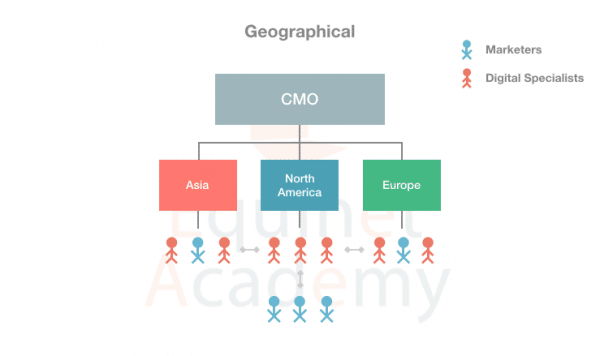 The geographical structure organises its marketing divisions into regional or country-specific teams, with country managers leading each division or region. This structure may be centralised, decentralised, or integrated, varying from company to company.
Pros:
Diverse perspectives from country-specific teams, resulting in localised marketing messaging that audiences can better relate to
Cons:
Some degree of decentralisation is inevitable, resulting in inconsistent messaging and competing campaigns
A centralised model within a geographical structure can result in slower or limited execution, due to a lack of autonomy and potential restrictions imposed by the central team
Product-based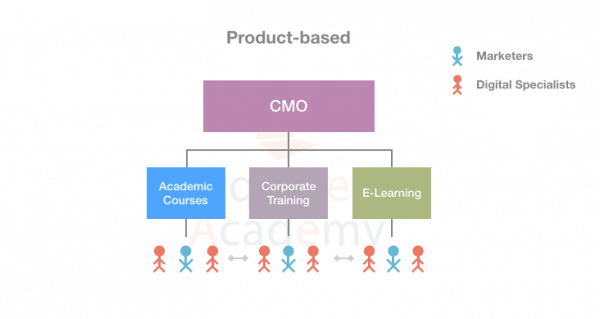 This structure is composed of marketing teams assigned under individual product divisions in an organisation with multiple product lines.
Pros:
For businesses with massive product lines and limited resources per marketing team, forming new marketing teams that mirror existing marketing team structures can shorten the time to get multiple products to market
Cons:
May result in unintentional competition (e.g. bidding on similar keywords in SEM campaigns) and duplicate resources (e.g. whitepapers and brochures with relatively similar content)
Market-based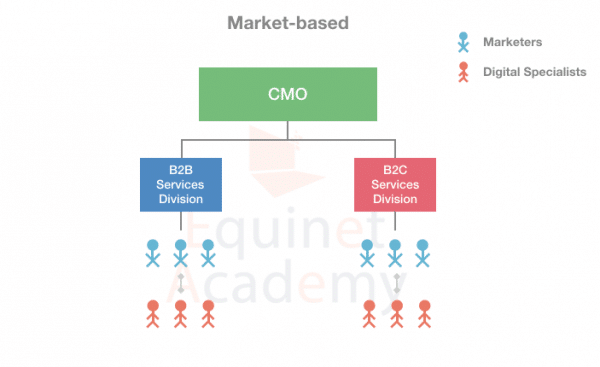 This structure is where marketing teams are organised around market segments, industry categories, and customer types (e.g. B2B, B2C personas).
Pros:
Better focus for marketing teams as they can focus on marketing campaign efforts within their specialised field of expertise in each market
Cons:
Similar to product-based structure, this structure may result in duplication and unintentional competition
Funnel-based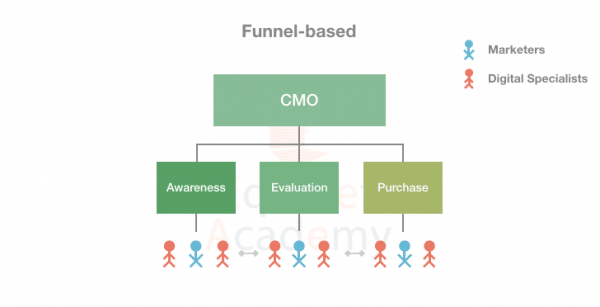 The funnel-based structure assembles the teams along the purchase funnel or customer journey, e.g. Awareness => Consideration/Evaluation => Purchase => Loyalty/Advocacy or TOFU, MOFU, BOFU, which represents – Top of the Funnel, Middle of the Funnel, and Bottom of the Funnel.
For example, the Awareness team launches digital ads and PR campaigns to drive brand awareness, while the Evaluation/Consideration team develops content to engage and convert customers, and the Purchase team focuses on product marketing and optimises the website's landing pages to generate leads/sales.
Pros:
With the customer journey as the key focus across different marketing teams, the customer experiences a more seamless (omniscient) and integrated online and offline buying experience
More specialisation and better team dynamics within each division, resulting in better productivity and project outcomes
Cons:
Specialised skills and talents can be hard to find
Different categories of metrics are measured across the funnel and there may be disconnects along the way
Process-based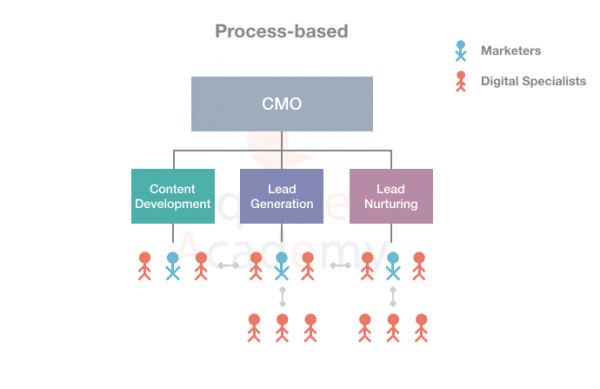 In a process-based structure, marketing teams are organised along the marketing process. Processes vary from industry to industry.
A B2B marketing process may start from the content development phase, followed by lead generation (using content such as whitepapers), and ending with lead nurturing via a CRM or marketing automation platform.
An eCommerce marketing process may begin with demand generation (through social media, PR, SEO, marketplaces, and advertising), followed by conversion rate optimization and customer engagement.
Pros:
Easily adoptable once the business process and business strategies are already in place
Cons:
Rigid in structure, resulting in potential friction in communication between different departments
Flexible
Flexible structures refer to organisational models that are flat, organic, or elastic in that there may be little to no hierarchy as marketers assume various roles as and when they are needed.
For example, in a three-person team with one Digital Marketing Manager and two Digital Marketing Executives, the Digital Marketing Manager may be working on the SEO/SEM and PR campaign while the Digital Marketing Executives work on Social Media Marketing and Digital Advertising campaigns and swap roles for different product marketing campaigns.
Pros:
More efficient decision-making that may be limited in other more hierarchical structures
Cons:
At times, it may result in difficulty deciding who does what
Functional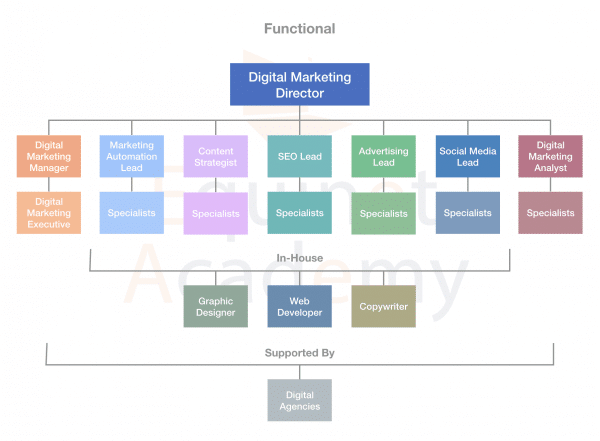 The functional structure organises the team by marketing discipline and expertise, much like a digital agency team structure (without the account executives, digital planners, and project managers).
CMO

Digital Marketing Director

Digital Marketing Manager

Digital Marketing Executive

Content Strategist
SEO Lead
Advertising Lead
Social Media Lead
Email/Marketing Automation Lead

Email/Marketing Automation Specialists

Digital Marketing Analyst
Some large companies have a digital centre of excellence team, housing digital experts and functioning like an internal digital agency (with account executives, digital planners, and project manager roles).
Pros:
Digital specialists in each respective function can support specialized campaigns (e.g. technical SEO and digital marketing analytics) and also contribute to the overall development of holistic digital marketing strategies
Cons:
It can be challenging to find T-shaped digital marketers (specialists with in-depth knowledge in one or two channels who are also knowledgeable about the broad spectrum of marketing)
Siloing teams by specific channels can result in narrow views as opposed to a more holistic, all-rounded digital marketing strategy being developed
Challenges and Considerations
The challenges many organisations face in assembling robust and agile marketing teams may include getting buy-in from C-levels and employees, budget and resource constraints, integrating departments and systems/processes, and training to close digital marketing skills gaps.
In the end, it does not matter how the organisation is structured or what the processes are, but whether its people and systems are adequately skilled and agile in adapting and delivering the business objectives while, at the same time, providing a seamless customer experience (customer centricity).
Digital Marketing Career Portal Menu
Download the Complete Digital Marketing Career Handbook (PDF Version)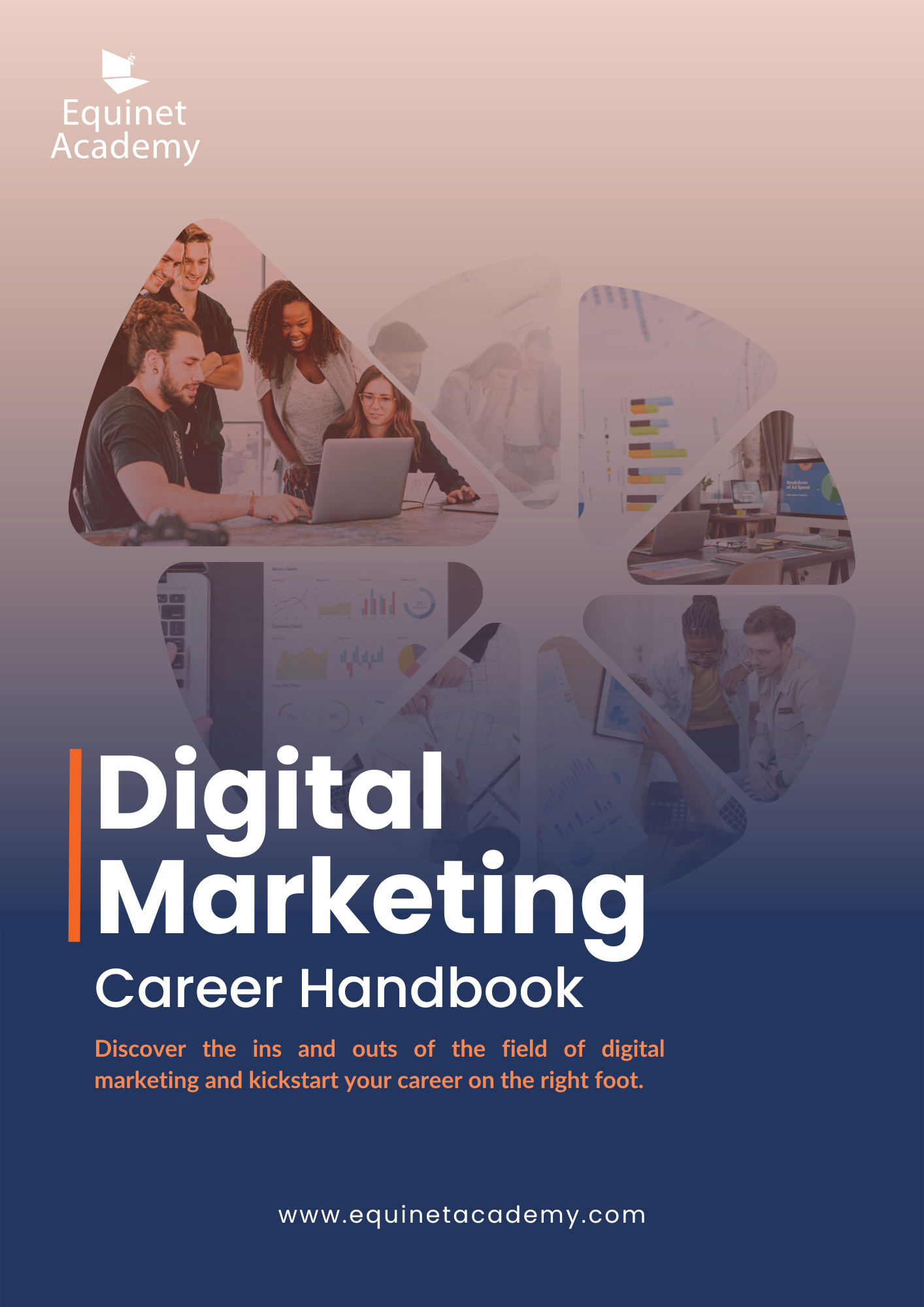 Discover the ins and outs of the field of digital marketing and kickstart your career on the right foot.