Digital Marketing Salary Guide
Understand the career pathways a Digital Marketer can progress towards.
Digital Marketing Salary Guide
A career in Digital Marketing can be hugely satisfying. You get to see tangible growth and results from your efforts, and a visible impact on your audiences or clients through data-driven marketing and analytics. It can be especially rewarding when you find a fix for a problem that results in measurable improvements to a website's performance or campaign. Another huge draw of Digital Marketing is that it provides cost-effective marketing and reach.
Salary and Pay Scale for Singapore Digital Marketers
For junior and executive positions, candidates are expected to have a broad understanding of digital marketing concepts and strategies. However, if they choose to specialize in one channel, employers would expect them to have a portfolio or evidence of practical experience.
When talking about digital marketing job roles in the corporate world, you start off your career by either working though client-side or working for an agency. We shall briefly discuss the career progression pathway for both agencies and client-side.
Full-service agencies are usually referred to as a "one-stop-shop" where you can get all the different components of an ad campaign done. From market research to content production and programmatic advertising, they have a separate department focused on account management/servicing and sales.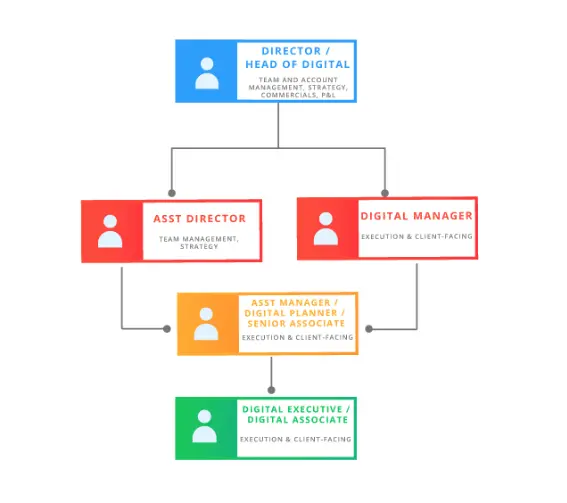 On the other hand, it is more difficult for boutique (small) agencies to take on diverse channels as the workers tend to specialise. Therefore, their contributions are usually more focused on a specific discipline.
One key difference between job titles on both client and agency side is the word 'marketing' usually surfaces up more on client-side. The structure of the marketing department tends to be flatter than in an agency. There are typically 3 levels: executive, management, and director.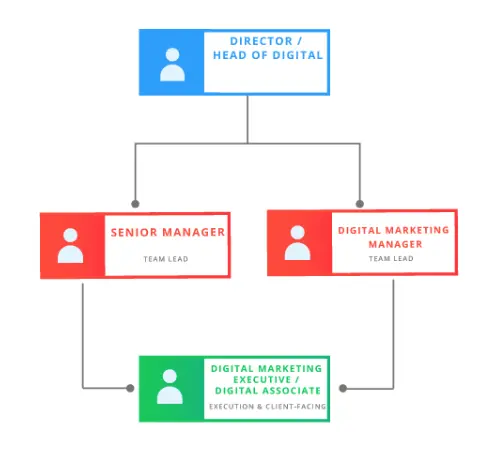 A digital marketing executive or assistant manager is usually the junior level within a digital marketing team. They report to the team leads or may have an assigned manager based on the projects they are currently undertaking. Their main goal is to promote and market the respective organization's products and services to audiences using various channels.
They are expected to have a comprehensive understanding of digital marketing concepts and are required to oversee the online marketing strategy for their respective organization. Their job scope may also include liaising with agency specialists in the area of outsourcing to expedite tasks.
The role of a Digital Marketing Manager or senior manager focuses more on strategic decision making and planning on a team level. They are responsible for all aspects of a company's marketing operations. Their central goal is to help grow a brand's influence and have a conversion strategy in place while also increasing brand loyalty and awareness. Their versatility in their roles will also include planning, implementing, and monitoring digital marketing campaigns across various digital networks.
For a Digital Marketing Director, he/she should have vast marketing experience and passion for digital technologies. They oversee different teams to ensure consistency through all digital marketing channels. They have a gift of thinking out of the box and have the quality of forward-thinking to build and maintain a strong company web presence.
Ultimately, being a director, he/she can drive all digital marketing efforts to achieve business objectives for the corporation. To be promoted to a director-level, it takes about 10 years of relevant experience developing, implementing and managing marketing campaigns.
The salary package offered will vary with the candidate's years of experience and industry standards. These are not absolute and should only be taken as a guide. Salary figures are sourced from: Robert Walters, Payscale.com, Morgan McKinley, and digital agencies based in Singapore such as 2Stallions and iFoundries.
| Job Roles | Salary Range (Annual) |
| --- | --- |
| Digital Marketing Executive / Digital Marketing Associate | $30,000 - $48,000 |
| Digital Marketing Manager | $45,000 - $110,000 |
| Digital Marketing Director | $84,000 - $250,000 |
| Digital Planner | $42,000 - $54,000 |
| Digital Account Executive | $36,000 - $42,000 |
| Digital Account Manager | $45,000 - $54,000 |
| Social Media Manager | $53,400 - $85,000 |
| Social Media Director | $84,000 - $150,000 |
| Search Engine Optimisation Specialist | $30,000 - $38,000 |
| Search Engine Optimisation Manager | $54,000 - 85,000 |
| Paid Media Specialist | $42,000 - $72,000 |
| Digital Marketing Analyst | $30,000 - $48,000 |
| Content Manager | $45,000 - $78,000 |
| Conversion Rate Optimisation Manager | $52,000 - $90,000 |
Like most other jobs, it takes years of experience to progress up the career ladder. However, the journey will be an enriching and fulfilling one.
Get started with a flourishing career in digital marketing, check out our Digital Marketing Career Resource Guides.  
Companies expect candidates to possess a degree in marketing or communications. For entry-level positions, some employers may consider a diploma.
However, you may wish to supplement your qualifications with certificates from online courses, distance learning programs, or local institutes, since digital marketing modules in universities and private institutions focus more on theoretical aspects and rarely offer actionable insights that candidates can apply directly to their work.
This puts graduates at a disadvantage since the learning curve at the workplace can be quite steep and digital marketing trend shifts happen frequently.
Ideal Qualities of a Digital Marketer
Being good at this industry requires more than just knowing how to navigate digital tools and platforms.
The ability to condense and present information neatly in a visual manner are some of the core skills of a good marketer. The ideal digital marketing employee is expected to be able to articulate their thoughts confidently and coherently.
Demonstrating that you are able to build a personal brand and an online presence adds brownie points to your credentials. Some examples include having a blog or social media page loaded with shareable content, showing that you have cultivated a small online following or creating a personal brand.
Most employers will indicate whether a degree or diploma is required. However, it is still possible to land a marketing gig with a good portfolio, marketing certifications online and offline, and strong commendations from reputable industry professionals.
An internship or online side project in your digital marketing resume will showcase your skills to the hiring manager and put you at a greater advantage. Don't forget to also set up a LinkedIn account and feature your achievements. Knowing and understanding the industry jargon helps too, as it will come in handy if you have to evaluate pitches and hold meetings with a digital marketing agency.
For example, a Search Engine Optimization strategy, a niche yet essential aspect of any digital strategy, has been steadily gaining popularity in Singapore. A lot of marketers and business owners are starting to recognize the long-term value that SEO brings to the table.
Want a slice of the pie? Start by familiarizing yourself with the phrases- check out this comprehensive SEO Glossary.
Wang Yaoxian, Senior Project Manager at Zombits, a local digital marketing agency, says that there is high demand for candidates who are able to demonstrate problem solving capabilities and have an analytical mindset. "Because in real life, things don't go according to plan and you need to be able to think on your feet and address the problem at the first opportunity. The inability to assess and process a course of action quickly can be very detrimental."
As for advice on the good habits that a digital marketer should have, he says, "Develop habits that exercise your brain. I like to stay updated on current affairs, spend some time catching up on what's happening in the world and think about how it could affect me, my work, or my client, regardless of whether or not it is practical or applicable."
Digital Marketing in 2021
The Information, Communications and Technology (ICT) sector, in which digital marketing and data analytics is under, is among the top 4 job sectors in Singapore that are expected to do well in 2021.
The COVID-19 pandemic has also accelerated digital marketing transformation. With digital marketing spend being spread across more channels in 2021 and consumer daily time usage on mobile devices steadily increasing every year, the demand for digital marketers has also increased, according to a report by Kelly Services and SkillsFuture Singapore.
Moreover, the average salary of a digital marketing specialist ranges from $30,000 – $40,000 per annum, with digital marketing directors drawing $120,000 per annum in salary.
Digital Marketing is more than just creating a Facebook Page and running some advertisements to get Likes on your post.
With companies seeking to reach a broader audience, it is essential for them to utilize digital platforms such as social media, email, and mobile marketing. Furthermore, an omni-channel approach offers more value for businesses, allowing them to approach their audiences from different angles and platforms.
However, adopting an omni-channel strategy does not mean using every available channel, or as many channels as possible. It is about figuring the sequence of events (customer buying journey) which takes place leading up to the action of purchase and determining which channels best lead to the success of that.
Therein lies the difficulty: finding out how to execute efficiently and track accurately. This has also led to an increased demand for candidates who are comfortable with numbers and using analytics tools.
The Biggest Brands of Tomorrow Will Be Built Online
There is no secret to having a successful career in digital marketing. However, do keep in mind two points: be a creative problem solver, and remember that marketing is about connecting with an audience. Having a finger on the pulse of the industry is great but subscribing to ebooks and mailing lists won't be doing much to get you that job offer or promotion.
In an industry that moves at an incredibly fast pace, you have to take action and produce tangible results. Look at ways to upgrade your digital marketing skills by attending digital marketing courses, reading up on digital marketing resources online, starting a blog or a website, and getting a digital marketing certificate.
Our article covering what a digital marketing career entails and how you can get started might also serve to give you a better picture if digital marketing is a career path you should go down.
Digital Marketing Career Portal Menu
Download the Complete Digital Marketing Career Handbook (PDF Version)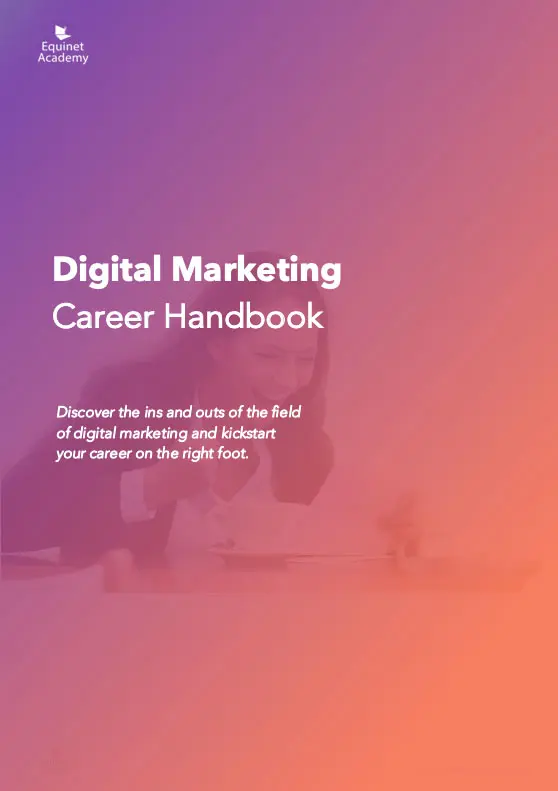 Discover the ins and outs of the field of digital marketing and kickstart your career on the right foot.