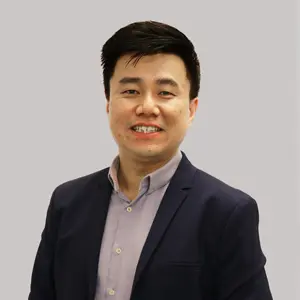 With more than 14 years in the digital field, Roy has managed a wide range of both paid and owned digital channels from SEM, Social Media, Display, Affiliate Marketing, SEO, Marketing Automation, and Mobile Marketing. As a result, he has extensive experience in managing an eCommerce business, digital marketing, UI/UX and guiding brands/organisation through the digital transformation process.
Roy started his career in the digital creative line and transited into digital marketing and eCommerce as a Product Manager for Marina Bay Sands as a founding member. During his role as founding member and Product Manager for Marina Bay Sands, he oversaw the conversion funnel of direct room booking from marinabaysands.com and maintaining a good CVR of above 3%.
He then joined Rakuten Singapore as a Web & Marketing Director and expanded his role as a Deputy General Manager, managing the entire business from marketing, operations, to customer acquisition growth. As the campaign lead of the business first and biggest campaign, Roy has managed to drive over 300K traffic in a span of 5 days and achieving at 3.5% CVR with the high volume of traffic. Roy has also grow the business over 200% MOM and over 100% YOY.
A true adopter in analytics and data-driven campaigns, Roy uses this principle to grow businesses in new customers' acquisitions and demand generation. And to continue to provide quality service to existing customers, Roy has experience in using various digital channels to best engage current customers based on the different demographics of the customers.
With the continual of increased expectations from the digital generation, Roy strongly believes that a seamless experience that integrates between offline and online is now only a foundation of service. Understanding who they are, what they want and anticipate what customers are looking for next will be the next level to provide a seamless experience.
"Roy is one of the best trainers, very clear, lots of work experience and good examples of real world applications. He is one of the advanced users/trainers. Equinet has fantastic trainers, excellent infrastructure, the course is just right they adjust to your needs from beginning to advanced. Trainers are really super experienced and can also cater for advanced users!"
Chew Beng Hoe, Jimmy
"Roy Wee is full of energy, very engaging and is very clear. He is able to keep my attention throughout the full 2-day course."
Rafidah Binte Mohamed Rapit
"The Digital Advertising course was a good course covering the various aspects of digital advertising, with concise information and hands-on sessions within a short duration of 2 days. Through this course, I have developed a better understanding of the various tools and platforms used in digital advertising. Lessons with Roy were very interactive, and I appreciate the real life case studies that he has shared through his experiences. He also takes the time and effort to help answer all the questions that we have."
Wenyi Saw
"Roy is a very patient and knowledgeable trainer, really learnt a lot during his classes and even though the training hours appear long, the class feels just right because of how informative and engaging he was. He is also really helpful because I asked him if for some resources availability and he said he will send it to me via email after the course ended. 100% would recommend his classes! Thanks Roy! :)"
Eileen Goh
"Roy is a very patient trainer with enough humility to preserve the "face" of his trainees. Well-paced instructions and active sharing of his practical experiences is very much appreciated by the class."
Nickson Cheng
Learn Digital Marketing From The Best
Get yourself certified, apply actionable digital marketing strategies at work and see results.