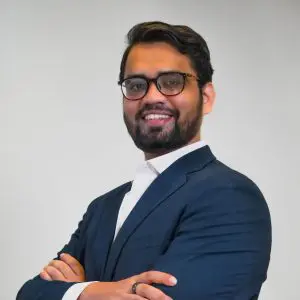 Razy Shah is the co-founder of 2Stallions Digital Marketing Agency– an award-winning full-service agency. He co-founded 2Stallions in 2012 and has since grown it from an initial team of two to a company of thirty. Razy has over a decade of experience spanning across corporate sectors such as digital marketing, business development and management.
In the early days of 2Stallions, Razy was involved in everything- from building websites to setting up ad campaigns. His commitment to details and quality has equipped him with a deep understanding of digital marketing techniques and how to execute them. He has worked with startups, SMEs and Fortune 500 companies to implement successful marketing strategies and campaigns that reap returns to this day. These include both B2C and B2B brands such as AXA, Fujifilm, Astalift, Graphisoft, and Stanley Black and Decker.
Razy Shah is a speaker and international trainer, having conducted workshops for hundreds of government officials from 27 countries. His interests lie in topics such as "Technopreneurship and SME Development", "The Future of Work", and "The Digital Economy". Razy is a regular guest speaker at the SP Jain School of Global Management to MBA, and receives invitations to conduct talks at NUS and NTU.
Razy is a certified adult educator with the WSQ Advanced Certificate in Learning and Performance (ACLP). He is a strong believer of providing immense value to his students and giving back to the industry. He is an active member in the British Chamber of Commerce's Marketing and Communications committee.
As a dedicated practitioner of the life-long learning philosophy, Razy is currently pursuing an MSc in Marketing from King's College London. In his downtime, he enjoys learning new languages and is working on adding Bahasa Indonesia to his multilingual repertoire. Razy is an avid adventurer and has recently scaled the highest peaks of Taiwan and Malaysia.
"Trainer Razy has been wonderful, generous with his knowledge nad very patient with all of us. Thank you."
Phang Yuen Ting
"Mr. Razy was very welcoming in allowing us to share our concerns on the course topics with him. His response was very positive and he did not shy away from sharing his knowledge with us. Mr. Razy also provided many real-life examples that made the lesson much easier to understand. Thank you."
Teo Kee Poh, Fabian
"Cool, calm and collected – and generous to a fault. That's Razy, who was my instructor for the email marketing course at Equinet. I was a noob when it came to email marketing and automation. Razy's delivery was clear and patient, and his course gave me excellent grounding and the confidence to build on my new skills and knowledge. He is also an unsparing giver, forthcoming with his industry experience and helpful strategy ideas. In other words, Razy could possibly be the best teacher anyone could have."
Low Jat Leng
Courses Razy Facilitates:
Learn Digital Marketing From The Best
Get yourself certified, apply actionable digital marketing strategies at work and see results.