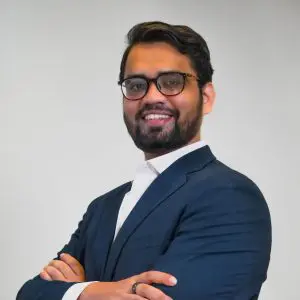 Razy Shah is the Co-founder of 2Stallions Digital Marketing Agency – an award-winning full-service agency. 2Stallions was founded in 2012 and expanded into the Malaysian market in 2020.
His commitment to details and quality has equipped him with a deep understanding of digital marketing techniques and how to execute them. He has worked with startups, SMEs and Fortune 500 companies to implement successful marketing strategies and campaigns that reap returns to this day. These include both B2C and B2B brands such as AXA, Fujifilm, Astalift, Daimler, and Stanley Black and Decker.
Razy's commitment to delivering exceptional results has garnered accolades, including the prestigious Gold Award for Excellence in Pivot Marketing at the Marketing Excellence Awards in 2022. This recognition further solidifies his reputation as a practitioner who consistently delivers outstanding outcomes for his clients.
In addition to his accomplishments in the industry, he is actively involved in the digital marketing community. He was part of the panel of judges at the Hashtag Social Media Awards 2023. Razy is a sought-after panel moderator at industry events like HYPE Summit Malaysia, eTail Asia, and the Programmatic Pioneers Summit. These engagements reflect his thought leadership and contributions to shaping conversations around digital marketing in the region.
Razy's passion for teaching and sharing his expertise is evident through his role as a marketing consultancy workshop facilitator at the Singapore and Dubai campuses of SP Jain School of Global Management. His valuable insights and guest lectures at prestigious institutions such as the NUS Business School, Nanyang Technological University, UOB-SMU Asian Enterprise Institute, Institute of Business Administration Karachi (Pakistan), Tripoli Institute of Policy Studies (Lebanon), ESSEC Business School, and Maastricht University (Netherlands) highlight his dedication to nurturing the next generation of digital marketers and entrepreneurs.
Besides teaching at education institutions, Razy has conducted workshops for hundreds of government officials from 27 countries. He has run these workshops in person in countries like Laos, Myanmar and Qatar. These workshops are on the topics of digital government and digital economy.
With an impressive educational background that includes a Bachelor's Degree from Asia's top university, National University of Singapore (NUS), and ongoing pursuit of a double MBA from KEDGE Business School in France and the Malaysia University of Science and Technology, Razy combines theoretical knowledge with practical expertise. His certifications as an Integral Development Coach and ACLP (Advanced Certificate in Learning and Performance) further enhance his ability to guide and inspire adult learners.
By learning from Razy Shah, aspiring digital marketers gain access to a wealth of real-world experience, industry insights, and practical strategies that drive business growth.
"Trainer Razy has been wonderful, generous with his knowledge and very patient with all of us. Thank you."
Phang Yuen Ting
"Mr. Razy was very welcoming in allowing us to share our concerns on the course topics with him. His response was very positive and he did not shy away from sharing his knowledge with us. Mr. Razy also provided many real-life examples that made the lesson much easier to understand. Thank you."
Teo Kee Poh, Fabian
"Cool, calm and collected – and generous to a fault. That's Razy, who was my instructor for the email marketing course at Equinet. I was a noob when it came to email marketing and automation. Razy's delivery was clear and patient, and his course gave me excellent grounding and the confidence to build on my new skills and knowledge. He is also an unsparing giver, forthcoming with his industry experience and helpful strategy ideas. In other words, Razy could possibly be the best teacher anyone could have."
Low Jat Leng
Courses Razy Facilitates:
Learn Digital Marketing From The Best
Get yourself certified, apply actionable digital marketing strategies at work and see results.