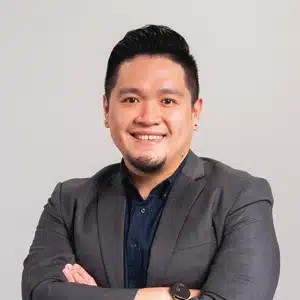 Jeremiah is the Founder of UNGRUMP.CO, a digital marketing agency specialised in the F&B industry. Coming from a family of chefs and restauranteurs, Jeremiah has had his roots in F&B, and started in digital marketing, specialising in Social Media Marketing and Traditional Marketing after he graduated from university.
Jeremiah has a decade of experience in both B2B and Consumer Marketing and another six years of experience as a WordPress Developer / Graphic Designer. He worked in-house as Head of Marketing with several F&B groups before starting UNGRUMP, where he has worked with clients such as Tongue Tip Lanzhou Beef Noodles, Fitness First, Impact Investment Exchange, Workwell.SG and many more clients across Southeast Asia.
In his experience as a marketing manager and head of marketing for various F&B groups, Jeremiah has spearheaded some extremely successful campaigns for notable F&B Groups such as Strumms Holdings, The Clan Restaurant, and Mel's Place. Jeremiah adopts a UX-focused approach that relies on heavily researching customer preferences as well as positive user experiences in all of his clients' campaigns, as well as in his own services and operations. This is best illustrated in his most notable project, a campaign for Miss Molly's Cafe. Jeremiah combined his research of local food trends with western execution, and the dishes created soon became a trendsetter for local Fusion dishes such as Laksa Pasta, Har Jiong Gai Burgers, and Beef Rendang Pizza among others– all now found in cafes across Singapore.
Another milestone in Jeremiah's career is bringing Tongue Tip Lanzhou Beef Noodles, one of China's most famous Lanzhou Lamian restaurants, to Singapore. He successfully did this by analysing the target market in Singapore and conducting significant research into what customers want in a good bowl of noodles. He also assisted in the localisation strategy of the restaurant chain, making minor tweaks to the recipe and even rebranding. Their first outlet saw a record six-figure sales monthly, just eight months after opening, leading the company to strategically open four more outlets across Singapore in the following two years.
In 2020, Jeremiah joined the L&D Department at Facebook (now Meta) and spearheaded global vILT production efforts with his team at Creative Facilitations, a US-based company. He continues to lead vILT design and production efforts, training in-house producers and optimising the curriculum for various virtual platforms such as Webex and Zoom.
Jeremiah is also a certified adult educator with a WSQ Advanced Certificate in Learning and Performance (ACLP) awarded by the Institute of Adult Learning (IAL), an autonomous institute within the Singapore University of Social Sciences (SUSS). He also graduated from the University at Buffalo, attaining his B.A (Hons) in Communications, and graduated with the Class of May 2021 Quantic EMBA Program. In his free time, Jeremiah fuels his passion for music with his band, The Suncitysons, writing songs, sessioning for recording artists and playing across various live music venues in Singapore.
Jeremiah is a passionate educator and practitioner committed to helping people and businesses of all sizes grow and scale through Customer / User Centric marketing and quality experiences.
"The WordPress Website Creation course at Equinet Academy has broadened my horizons, allowing me to gain a deeper understanding of wordpress and web design in general. I am now much more confident in creating and handling my own website in the future. Thank you Jeremiah for your clear presentation, and for selflessly sharing your knowledge with us. I have thoroughly enjoyed the class!"
Hui Ting
"I enjoyed the 3 days course, it was very intensive, clear, fun and engaging. The trainer Jeremiah is very patient to answer our questions, he is able to explain the materials in simple way, so it's easier for us to understand. Thumbs up, well done! Recommended!"
Imelda
"The course was definitely very comprehensive and as promised in the brochure. The trainer was knowledge, patient and happy to answer any queries the class had even if it was a bit beyond the text. He was also patient to assist students who were less tech savvy plus also going the extra mile to share more advanced professional knowledge with other students who asked."
Grace Wu
Courses Jeremiah Facilitates:
Learn Digital Marketing From The Best
Get yourself certified, apply actionable digital marketing strategies at work and see results.