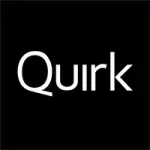 Long Description
Quirk Pte Ltd is a digital consultant agency located in Singapore. Established in 2009, Quirk comprises of a dedicated team of Graphic Designers, Digital Marketers, Website Developers, Web Designers, and Content Creators. They operate on the goal of helping their clients achieve success in any of the projects that they embark on.
With the diverse skills that Quirk team members possess; they help clients create visually compelling designs both for web and print. This helps to convert to quantifiable business outcomes that result in a positive ROI.
They can also function as an extension of a company's branding and marketing department, working efficiently in providing personalized yet highly adaptable services.
Having seen to the completion of over 800 projects and with slightly-above 200 clients that span from SMEs, MNCs to Government sectors, Quirk is an established and credible authority in the design agencies arena and has continually display with the utmost professionalism in the digital community. Their core values, though vast, can be categorized as developing and maintaining long-term partnerships, providing unmatched quality, and display a high level of creativity and commitment.
Some of their varied services include Marketing Campaigns, Brand Strategy, Social Media Marketing, Corporate Identity, Video Production, and Motion Graphics.