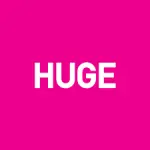 Long Description
Huge is an established design and digital marketing agency that provides strategy, marketing, design, and technology services to Fortune 100 companies.
A full-service digital marketing agency that is establishing itself in the field of Business Consulting, Branding, Data Science, Research, Experience Design, Physical Design, Service Design, Technology, SEO, Marketing Campaigns, Content Development, Social Media, PR, and CRM. With its services and offices in Brazil, China, Singapore, Japan, San Francisco, and Portland, Huge is Asia's best web marketing company with 1500 highly trained web marketing personnel that assists clients with their services and improves the quality of life for all customers.
Huge's business objective is "to grow businesses by creating experiences people love". Huge helps to transform companies by designing the best-in-class experiences, driven by strong creative and is rooted in the technology, data, and organizational strategy required for operational excellence. Their unique approach has made Huge the fastest-growing agency for the past decade.