2Stallions Digital Marketing Agency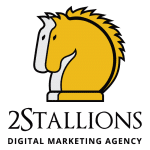 Business Name:
2Stallions Digital Marketing Agency
Long Description:
2Stallions is a full-service digital marketing agency in Singapore since 2012, with offices in India, Indonesia and the Philippines, and a growing team of 20+ people. We provide web development services – from static sites, to websites on CMS, to eCommerce and full-blown web applications – and mobile application development on native iOS and Android as well as hybrid.
We also offer digital marketing services, and we specialise in Search Engine Optimisation (SEO) and Google Ads Marketing (Search, Display, Video, Shopping & Mobile) as a Google Partner. We offer marketing automation services, content marketing that includes content creation, and social media management and advertising.
We have worked with 250+ clients to date, including brands such as CNN, Friesland Campina, Wavin APAC, InterContinental Singapore and RedBull Singapore, helping them achieve their marketing and development objectives.
Send Message to listing owner
Listing Title: 2Stallions Digital Marketing Agency