Content Marketing Strategy Plan Template
WHAT IS INCLUDED IN THIS CONTENT MARKETING STRATEGY PLAN TEMPLATE?
A content marketing strategy is a holistic plan that details a brand's content marketing processes, which includes creating and distributing valuable, relevant, and engaging content to a brand's target audiences in a timely and consistent manner.
Results of Content Marketing Institute's 2018 annual research found that of organisations with high content marketing to sales alignment, 75% had a documented content marketing strategy.
Jewel Changi Airport wasn't built overnight. It took years of research and planning. Successful restaurant chains and franchises have a ton of guidelines and processes penned down in order to maintain quality standards.
Great brands don't just happen to attract thousands of repeat customers by chance. But they happen to have a documented content marketing strategy.
This Content Marketing Strategy Plan Template consists of 14 parts: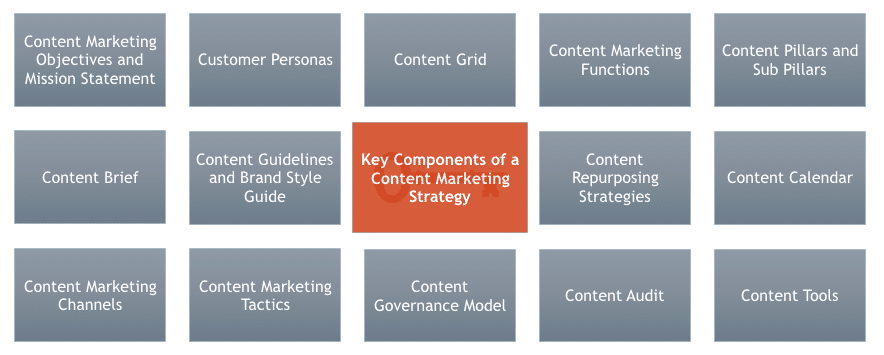 Content Marketing Mission Statement, Objectives, KPIs, and Metrics (Why are we doing content marketing? What is the purpose of this plan? What are we measuring?)
Customer Personas (Who are we marketing to?)
Content Audit (A Spreadsheet breaking down each piece of content and measuring its performance)
Content Pillars (Content ideas and substantive pages that can be broken down into many sub cluster topics)
Content Grid
Content Calendar
Content Brief
Content Repurposing Strategies (Formats: Long-form, short-form, blogposts, videos, eBooks, whitepapers, articles)
Content Marketing Channels (Facebook, YouTube, LinkedIn, Organic Search, Native Advertising, Display Advertising, Email, SMS, Channel Partners, Guest Post, Influencers, Forums, Press Release)
Content Marketing Tactics
Content Marketing Functions
Content Governance Model
Content Guidelines and Brand Style Guide
Content Tools
Also to learn more about content marketing in digital campaigns, we have a 2-day Content Marketing Strategy course that gives you a more comprehensive understanding that includes learning how to conduct a content audit, selecting appropriate digital campaign channels, setting up Google Ads campaign and many more.
Download Your Free Template