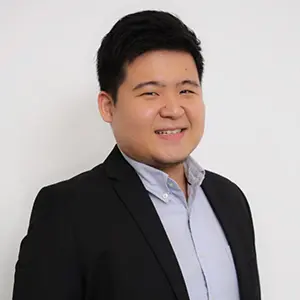 Xuanbin is the Asia Pacific Head of Digital Marketing for a listed Global FTSE 100 company. With 10 years of digital marketing experience under his belt, Xuanbin's career has spanned MNCs, private companies, and government agencies across Recruitment, IT, Media, Financial Services, and International Trade industries.
Xuanbin has spent more than half of his career as a performance marketer specialising in Paid Media, with deep expertise in Paid Search and managing millions of dollars in ad spend across the Asia Pacific region. A hands-on digital marketing leader, Xuanbin is also well-versed in web analytics, marketing automation, and website management.
Having been on both brand and agency sides, Xuanbin strongly believes in empowering brand marketers with a deeper understanding of the digital marketing landscape to achieve better alignment with their agencies; therein maximising the potential of their partnership and digital marketing performance.
During his stints in award-winning global media agencies, Xuanbin planned and strategised digital marketing campaigns over the Asia Pacific region for some of the world's largest companies. Some of which included Hotels.com, SAP, MINI, and Laneige.
Xuanbin is also a certified adult educator with the WSQ Advanced Certificate in Training and Assessment (ACTA). A self-directed learner himself, Xuanbin is currently a student of Agile methodologies and new languages such as SQL and Python.
"Xuanbin was well versed in the training and a good trainer who spoke fluently and I was able to keep attentive throughout the entire course."
Lo Chun Lum, Raymond
"Xuanbin is very patient and exhibits great knowledge in his field. He was able to deliver the course content well and was sincere in his approach."
Goh Mei Hui
"Before signing up, I have doubts if the course will be useful and whether I can learn new knowledge. But completing the course, I have no regrets signing up. I am satisfied with course conducted by trainer Xuan Bin and picked up useful skills that I believe I can apply in my work. Trainer conducted the course well and explaining the concepts in an applicable way. Strongly recommend anyone to pick up a course from Equinet if you wish to learn about digital marketing."
Maggie Mok
"Xuan Bin is an engaging and patient trainer who understands Google Ads well. He has a passion for teaching and marketing which shows throughout the course. I strongly recommend others who would like to learn more about Google Ads to attend this course."
Grace Chua
Courses Xuanbin Facilitates:
Articles Written by Xuanbin:
Learn Digital Marketing From The Best
Get yourself certified, apply actionable digital marketing strategies at work and see results.