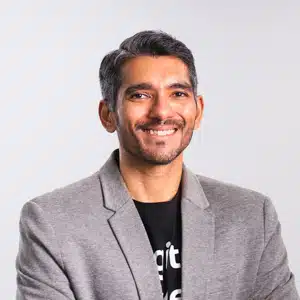 Dhawal Shah is an entrepreneur, coder and adventurer with extensive experience in digital marketing, digital transformation and management.
He is a Director at 2Stallions Digital Marketing Agency, an award-winning regional digital marketing agency, that he co-founded in 2012, with a growing team of specialists spread across Singapore, Malaysia, Indonesia, India & the Philippines. He has worked on hundreds of successful digital marketing projects with clients ranging from startups to MNCs.
He is well-versed in product development & management and possesses deep knowledge in performance-driven digital marketing strategy and analysis that incorporates SEO, online advertising, social media, email automation and data analytics.
Additionally, Dhawal has developed and delivered courses around the region in Singapore, Malaysia, Vietnam, Cambodia. These include digital marketing training for corporate clients and digital transformation & technopreneurship workshops for international governments via the Ministry of Foreign Affairs Singapore.
He was an early employee at a startup in Silicon Valley, which was later acquired by Skype and an engineer at the Defense Science Technology Agency (DSTA) in Singapore, where he managed large-scale, multi-million dollar Enterprise IT projects.
Dhawal co-founded a self-developed eCommerce startup in 2012 for which he successfully raised $50,000 in 30 days via a Kickstarter campaign. Through the use of SEO and content marketing, he built a blog that grew to over 100K unique visits per month in organic traffic in the space of 8 months to grow sales.
Driven by a keen sense of adventure, he most recently braved Class 5 rapids in New Zealand's Rangitata River and swam with dolphins in Kaikoura, NZ. He has also summited Mt Kilimanjaro, the highest peak on the African continent.
"Dhawal has shown great expertise and passion in digital analytics and I have learnt so much in these two days. Will highly recommend him to anyone interested in this course."
Colin Wan
"The Digital Marketing Analytics Course with Google Analytics is very suitable for beginners. It is a very insightful course, Dhawal is very well-versed in the topic and is able to explain clearly about how the tool is used and how I can view and interpret the data collected."
Choo Qiu Rong
"I have learnt digital marketing course via squared online. They also taught GA but not in depth. I learnt lots more through this course and thanks for Dhawal, the whole course is kind of interesting. From how to setup, tracking the code, step by step which I learnt a lot! Overall, I have to say the entire course much more better than Squared Online."
Heng Shao Cheng
"I have a very pleasant experience from the time I register the course through to the end of attending it. The instructor is very experienced and knowledgeable, the lesson was well planned. Even though I have gotten the GA basic cert online via Google prior to attending the course, I was still able to pick up new knowledge and insights."
Luo Kailing
"I have benefited tremendously from attending the Digital Marketing Analytics course as a total beginner and I learned way more than I had expected. Dhawal Shah is very knowledgeable and professional in delivering the course content. He was also very patient and helpful in passing on the knowledge efficiently. The registration process was a breeze and the administrative support was prompt throughout the entire process. Thank you very much!"
Oh Siew Bee
Courses Dhawal Facilitates:
Learn Digital Marketing From The Best
Get yourself certified, apply actionable digital marketing strategies at work and see results.