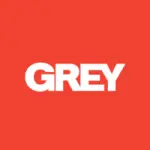 Long Description
Grey ranks among the world's top advertising and marketing organizations with offices sprawled across 86 countries. They push the envelope in terms of brand experience for every platform. Their distinct advantage over others is that they embed contemporary and modern thinking and infuse into their work resulting in producing popular brands and creates lasting consumer connections.
Just recently, Grey has been selected for ADWEEK's "Global Agency of the Year"​ twice; ADVERTISING AGE's "Agency of the Year"​ and CAMPAIGN magazine's "Global Network of the Year"​ in full acknowledgment of its creative and financial performance. Grey develops brands for several famous companies including Procter & Gamble, GlaxoSmithKline, Pfizer, Canon, Volvo, Marriott Hotels & Resorts, Kellogg's, Nestlé, AARP, Lindt, Applebee's, T.J. Maxx and YouTube TV.
Grey's multi-faceted services revolve around the four concepts of Intelligence, Content & Stories, Experience, and Delivery. Intelligence reflects on strategies that ideas can flourish on. Content on how ideas and creativity can be expressed. Experiences allowing ideas to unleash and Delivery to transform ideas into products and systems by incorporating innovation, technology, and production.