Digital Alpha Agency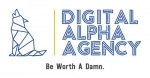 Business Name:
Digital Alpha Agency
Long Description:
Digital Alpha Agency, as the name suggests, is a digital marketing company in Singapore where they promise great results in terms of business growth. Starting in 2018, Digital alpha Agency (DAA) quickly developed into a promising digital solutions provider while focusing on the latest marketing techniques and technologies. They make things easier for their clients by offering flexible plans. While many companies struggle to measure the impact of their marketing efforts, DAA provides their clients with a clear direction and expectations.
DAA is not an overly formal agency, solving real-time problems for their clients. With 2-10 employees operating in Singapore, the agency provides a variety of digital marketing services which include Facebook Ads, Instagram Ads, Google Adwords, content marketing strategy, email marketing, conversion rate optimization, lead generation, content creation, social media management, sales funnel, and social media marketing.
Send Message to listing owner