WSQ Digital Marketing Courses Accredited by SkillsFuture Singapore
Get hands-on, practical, real-world digital marketing skills, and post-training support. Developed and taught by industry experts and certified trainers.

Download Course Selector Guide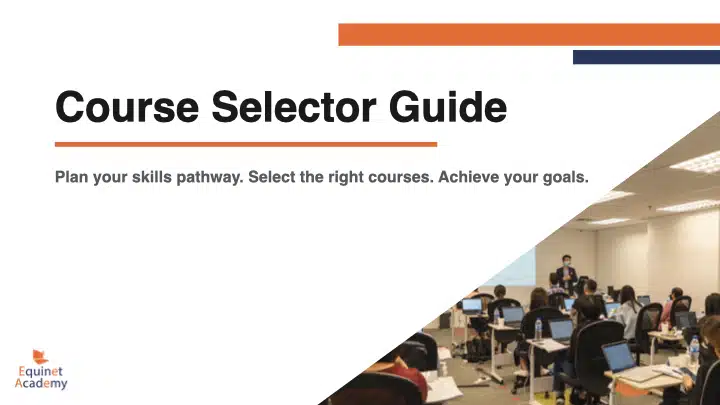 Equinet Academy respects your privacy and will never misuse or sell your personal information.
Excel in Digital Marketing
We train individuals and industry-leading organisations with expertly designed digital marketing curricula.
You'll receive the highest quality standards of training, whether it's in-person or online.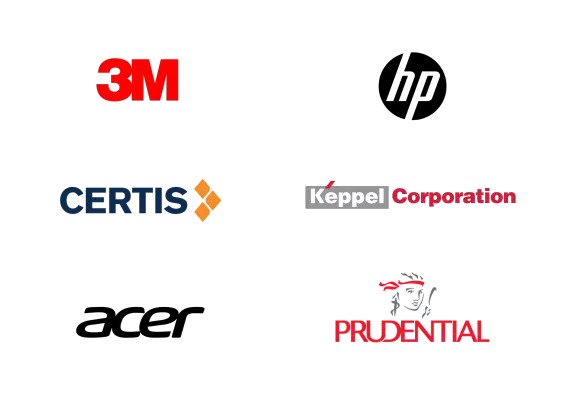 Claim Your FREE Digital Marketing Strategy eBook!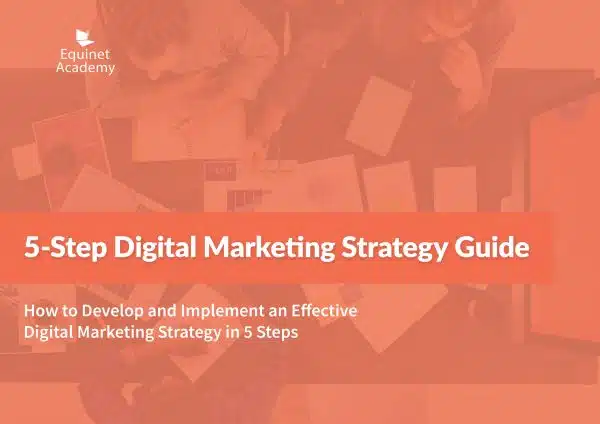 Learn how to develop and implement an effective digital marketing strategy in 5 simple steps.
Equinet Academy respects your privacy and will never misuse or sell your personal information.
By submitting this form, you consent to receive communications from Equinet Academy on exclusive invitations to marketing events, launch of new courses and more. Privacy Policy
Our Courses Are Tailored to Career Seekers and Businesses
Whether you're a job seeker or a business owner looking to upskill your team, we've got the right training solutions tailored for you.
Digital Marketing SkillsFuture Career Transition Programme (SCTP) For Job & Career Seekers
If you're looking to embark on a career in Digital Marketing, tap into the Digital Marketing SkillsFuture Career Transition Programme (SCTP) to:
Build your digital marketing portfolio
Network with industry professionals
Land a digital marketing job
Get digital marketing freelance projects
Corporate Training Solutions for Businesses
Planning to grow your business online? Work with us to equip your team with in-demand digital marketing skills. What we offer:
Bite-sized modular courses (1 to 2-day short digital marketing courses)
Courses can be customised/contextualise to your industry
Access to learning management system packed with actionable templates, checklists, and guides
Access to post-training support and insider community (consultations with industry experts)
Digital Marketing Certification (Full Qualification) Programmes
Master digital marketing and get certified.
Enrol into the digital marketing full qualification programmes and advance your career.
Advanced Certificate
in Digital Marketing
The Advanced Certificate in Digital Marketing will equip you with a strong foundation in Digital Marketing.
Diploma
in Digital Marketing
In this 7-module Diploma programme, you will take away actionable digital marketing knowledge and skills that you can apply on the job.
Specialist Diploma
in Digital Marketing
This Specialist Diploma will enable you to gain practitioner-level digital marketing mastery and advance your career.
The courses offered are conducted and delivered by @ASK Training. Equinet Academy validates and markets these courses on behalf of @ASK Training.
WSQ Digital Marketing Essentials
Dive into real world use cases of various digital marketing channels and develop an essential digital marketing plan for your business in this 1-day hands-on digital marketing course.
Packed with a combination of successful and unsuccessful real world case studies, you will learn how to identify and avoid costly mistakes, spot key opportunities that lead to profitable outcomes, and most importantly run and manage cost-efficient digital advertising and digital media campaigns.
Acquire the skills to strategise a digital advertising plan by choosing the right digital advertising channels. Utilize Google ads to set up and run campaigns and track your paid channel performance.
WSQ Social Media Marketing
Learn the processes and methodologies used by successful brands to grow your social media following and influence potential customers on Social Media to try out your products and services.
Grasp the 6-step social media marketing framework to enhance revenue by attaining higher brand awareness, deepening customer relationships, and cultivating leads. Gain followers and prospects by improving public perception.
WSQ Search Engine Optimisation (SEO)
Discover how to rank your website on the first page of Google for your targeted keywords using the most up-to-date white-hat SEO strategies in this SEO certification training course.
Optimise and rank your website on the 1st page of Google by devising actionable SEO strategies. Specialize in managing SEO campaigns through the lens of an SEO head.
WSQ Digital Marketing Analytics (Google Analytics)
This 2-day Digital Marketing Analytics course zooms in on tracking and measuring the effectiveness of both online marketing channels (SEO, Online ads, Social Media, Content) and offline marketing channels (flyers/brochures, TV, in-store promotions) in order to make important business decisions such as directing your marketing dollars to the best performing marketing channels.
Learn the ropes of using Google Analytics 4 Platform by interpreting qualitative & quantitative data to maximize your marketing ROI. Transform digital marketing data into actionable optimisation plans to make better marketing decisions.
WSQ WordPress Website Creation
Learn how to create, customise, and maintain a WordPress website from scratch in three days.
Specialise in building, customising & maintaining a WordPress website. Achieve your business objectives by learning the detailed process of designing impactful landing pages & webpages.
WSQ Digital Content Creation
Dive into the art and science of creating engaging and impactful digital content across various digital platforms.
This hands-on digital content creation course will equip you with the knowledge, skills and strategies needed to create content for your platform. On top of that, you will delve into design principles and industry best practices to ensure your creative visuals are engaging and compelling for audiences. 
WSQ Copywriting and Content Writing
Master the art of writing with clarity and purpose. Get equipped with the tools to write engaging content and persuasive ad copy for various digital channels, to grow your audience and lead them to perform the desired actions.
For a digital marketing professional to be effective in content marketing and advertising campaigns, you will need to master the art of communicating with clarity and purpose. This 16-hour course will equip you with the tools to write engaging content and persuasive ad copy for the various digital channels, to grow your audience and get them to perform desired actions.
In this hands-on Google Ads (AdWords) Search Engine Marketing (SEM) and Display Advertising (PPC) Certification course, you will learn step-by-step, how to create and launch cost-efficient Google Search Ads and Display campaigns to achieve your marketing objectives.
Become proficient in creating & launching Google Search and Display Advertising campaigns to achieve marketing objectives. Certify your competency by taking a Google Ads Certification exam at the end of the course.
WSQ Facebook & Instagram Marketing
This hands-on Facebook and Instagram Marketing Course will enable you to develop a Facebook and Instagram marketing strategy, set up, and execute successful Facebook and Instagram marketing and advertising campaigns.
Achieve mastery in creating & setting up impactful Facebook and Instagram marketing and advertising campaigns via hands-on application. Gain confidence in managing & optimising the effectiveness of your Facebook and Instagram marketing campaigns.
WSQ Website Optimisation (Conversion Rate Optimisation)
Transform into a data driven conversion rate specialist by understanding website conversion rates. Combine the mindset of a neuro marketer, data scientist and a copywriter to skyrocket your website conversion rates.
Master the science of conversion rate optimisation and double your conversion rates.
WSQ
Advanced

Digital Marketing Strategy
Learn expert-level digital marketing frameworks and processes that you can apply to your business. Transform your digital marketing capabilities by the end of the course and take away actionable strategies to successfully digitalise your organisation.
WSQ
Advanced

Digital Content Marketing
Dive deep into advanced Content Marketing concepts and strategies. Learn how to set up a first-class content marketing team, build and maintain a content hub, and establish your organisation as an authority in your industry.
WSQ
Advanced

Digital Advertising
Learn expert-level digital advertising strategies and techniques. This advanced course will dive into everything you will need to navigate the intricacies of developing and managing digital advertising strategies including creating and optimising media plans, budget planning, collaborating with external agencies, building your own in-house media buying team and designing policies for brand safety.
WSQ
Advanced

Social Media Management
Discover advanced Social Media management strategies derived from behavioural economics, storytelling, data analytics, and brand building. Try out tools & techniques to manage and develop SOPs for social media success.
WSQ
Advanced

Search Engine Optimisation (SEO)
Learn expert-level SEO techniques that experienced practitioners apply on a day-to-day basis. Level up your SEO skills by the end of the course, with live case studies and in-class implementation of advanced SEO strategies.
WSQ
Advanced

Digital Marketing Analytics (Google Analytics)
This intensive two-day Advanced Digital Marketing Analytics training course is designed to stretch your comfort level with Google Analytics 4 and guide you through the technical aspects of the platform to extract maximum data insights.
Acquire in-depth understanding of Google Analytics 4. Learn to track extensive data points, setup ecommerce tracking and customise data for business needs. Obtain deeper insights from analytics to drive important business decisions.
In this email marketing course, you will learn how to develop and implement effective email marketing automation strategies.
Increase profits and marketing productivity by understanding the technical features & capabilities of email marketing software. Be well-versed in streamlined customer lifecycle, lead generation and leading nurturing campaigns.
Explore bite-sized learning by taking short, modular courses and acquire in-demand digital marketing skills.
When you learn with us, you will not only get certified by a recognised certification body, the Singapore Workforce Skills Qualifications (WSQ). You will also acquire extensive knowledge from highly experienced industry practitioners who develop and deliver top quality course content through experiential hands-on learning methodologies.
Industry-recognised WSQ Statement of Attainments
Real world hands-on projects
Comprehensive, up-to-date curriculum and courseware
Post-course coaching and mentorship
Career support services and job opportunities
Be part of an insider community with over 1000+ members
We pride ourselves in delivering quality training and comprehensive post-training support. Trust us to be your learning partner and excel in digital marketing.
Instructors are subject matter experts
Instructors are certified facilitators with the WSQ Advanced Certificate in Learning and Performance (ACLP)
Curriculum and lesson plan is designed with instructional design frameworks (Kolb's, Gagne, Addie Model)
Training is hands-on with real world project-based assignments
WSQ Statement of Attainments are accredited by SkillsFuture Singapore
Complimentary resit of all modules within 3 years
Career support and job matching
Instructors may not have sufficient subject matter expertise
Instructors' teaching experience may be inadequate
Courseware may be outdated
Curriculum and lesson plan may be unstructured and lack engagement
Training may be loaded with lectures without opportunity to practice concepts taught
Certificate may not be recognised
Retaking of modules may be chargeable
Little to no support after the course
No career services offered
"I had been searching for application-based courses on digital marketing, especially on practical tools and bite-sized materials for easy referencing when I chanced upon Equinet Academy. The experience was absolutely brilliant. The trainers are dedicated industry practitioners, not theorists. It was a total fit to what I was looking for – hands-on with comprehensive learning resources provided.
I have already recommended Equinet Academy to my friends and business contacts who might need help in getting effective results through digital marketing."
"I attended a few Digital Marketing classes under different institutions. Equinet Academy is my best learning partner in the field. The Certified Digital Marketing Strategist course agenda and contents were well thought through, with practical exercises for me to do during the class. Their trainers are approachable and willing to teach/guide, even after the classes.
They offer free refresher classes and workshops for their students too, ensuring their students are well equipped with the acquired skills to perform our work/profession well. I have benefited a lot from their training. I have applied the skills in my course of work better e.g. briefing my agencies on the media buy, SEO and using the Analytics to draw insights for our Digital advertising."
"Currently, I am an MBA student and I can say that conventional and long-established institutions should definitely pay attention to training centers like Equinet Academy. They can learn a lot about how to conduct classes, select and structure content.
I felt like in these hours of training not a single minute was wasted – very straight to the point, extremely helpful and applicable."
Are WSQ certificates recognised?
Yes. The Singapore Workforce Skills Qualifications (WSQ) is a national credential system that trains, develops, assesses and certifies skills and competencies for the workforce. A key feature of WSQ is authority. WSQ Statements of Attainment  are quality assured and awarded by SkillsFuture Singapore.
What is the size of each class?
The minimum class size is 6 pax and can go up to 25 pax. Our instructors are certified trainers who are experienced in adult learning and instructional delivery. The lessons will be engaging with two-way interactions and hands-on practical sessions.
Do you offer customised corporate in-house trainings?
Do your offer post-training support?
Yes. You may retake each completed course once for a period of up to 3 years, completely free of charge. On top of this, you will be invited to complimentary Ask Me Anything sessions with industry experts on a regular basis. You may also join our insider community of over 1000+ members where you can post your challenges and network with like-minded professionals.
How do I register for a course?
To register for a course, visit the respective course pages and click "Sign Up" or "Apply Now". You may also get in touch with our course consultants who will be happy to assist you through the entire registration process.
Unsure which courses are suitable for your needs?
Reach out to us to receive course recommendations and have all your questions answered!