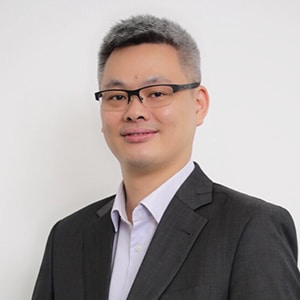 Kevin is an innovative and business-savvy professional with over 16 years of experience holding Global Senior Management roles in Sales & Marketing, Digital Marketing, Sales Operations, Business Development, Big Data Analytics, and Market research.
Throughout his career, he has developed a track record of various marketing solutions for co-op campaign and branding, community & e-commerce platforms, industrial thought leadership trend monitoring, and social media analytics.
His core strength lies in defining business and marketing strategies for rapid growing marketing penetration and the creation of commercial infrastructures which led to success stories with Apple, Samsung, Huawei, and other tech firms. In private, Kevin is a FinTech enthusiast, a business entrepreneur, a passionate badminton player and a food lover, enjoys traveling, and networking with others.
Experience/ Achievements
Achieved a reach of up to 100,000 community members and fundraising of $20-40 Million per project for Izetex, an open blockchain platform. This was done through email marketing, social media channel engagement, roadshows, and private sales.
Worked with Priority Token, one of the biggest ICO marketing agencies in the Financial Technology industry. Provided marketing consultancy services on competitor analysis, market benchmarking, and positioning including underlying market research.
Mentored an Indonesian start-up to drive significant reach through email marketing and automation campaigns.
Maximized sales funnel and optimized business processes in an SME with over 33% growth rate within 1 year.
Digital Transformation: Enhanced over 65% of productivity in SMEs and MNCs (MEDS Technologies, NXP/Philips Semiconductors) with strategic implementation of Microsoft Cloud Suite, Magento e-Commerce, Hubspot CRM, SAP & PowerBI Analytic, and Mailchimp. Capturing the user behaviour data in a CRM has led to higher conversion rate of new leads.
Spearheaded a global technical support platform with qualified lead generation and 180 cross-functional engineers to support technical designs worth $600 Million. Further conducting analysis of these data increased the leads from prospect to design stage.
Launched exacttarget marketing including automation with up to 20% YoY growth in revenue and 360-degree customer profiling & insight dashboard reporting in an all-in-one ecosystem for sale and marketing insight selling guide.
Kevin is also a certified adult educator with the WSQ Advanced Certificate in Training and Assessment (ACTA).
Certification with hands-on experiences:
Adobe Marketing Cloud & Eloqua, Google Analytics (2013) – Website Traffic and Lead Generation
Salesforce Radian 6, Social Studio & Meltwater (2014) – Social Media Big Data Analytics
Salesforce Exact Target Marketing (2015) – Omni-Channel SEM Engagement
Magento e-commerce & SAP integration (2016) – Platform integration including ERP Warehouse connectivity
WSQ ACTA Advanced Certified in Training & Assessment (2016) – Trainer & Course Developer
BI Analytics MS Power BI CPBIP & TIBCO BI (2017) – Analytics and KPI Performance Dashboard
FinTech Disruptive Technology (2018) – ICO Whitepaper & Marketing
Learn Digital Marketing From The Best
Get yourself certified, apply actionable digital marketing strategies at work and see results.