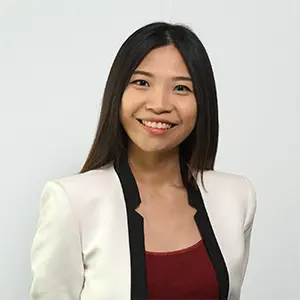 Jackie is a digital enthusiast with over a decade of digital marketing experience in both business-to-business (B2B) and business-to-consumer (B2C) companies. Over the years, she has led digital marketing strategies in various Fortune 500 companies such as Amazon and 3M, and tech companies including Trend Micro Security, and Meltwater Monitoring.
Jackie is fully committed to driving sales for companies she believes in. Over her career, she ran thousands of digital campaigns across a multitude of domains including paid search, organic and paid social, social selling, content syndication, E-commerce, and marketing automation. These digital marketing campaigns spanned Asia Pacific, Japan and China. As the digital marketing lead in Amazon Web Services training and certifications, she increased overall ROI through lowering cost-per-lead by 71%. In her recent international role, Jackie extended her scope beyond APAC when she conducted digital campaigns in EMEA. During her time at Meltwater, she drove +25% YOY in sales accepted leads, earning her the top demand-generation award in 2017. When E-commerce was in its infancy, she spearheaded the digital marketing team at 3M and set-up their E-commerce store which enabled over 170 products to be purchased online. In the same year, the E-commerce store delivered over 300% incremental revenue.
Jackie is a firm believer of knowledge sharing. She is passionate about empowering new age marketers to drive maximum outcomes through digital marketing. As part of her interest, Jackie speaks at webinars and trains people in digital marketing. She also holds a certification in WSQ Advanced Certificate in Training and Assessment (ACTA) from Institute of Adult Learning.
Jackie was comprehensive and knowledgeable in the topic, I have learnt a lot from the 2-day course. Her approachable and patient personality made the learning experience a pleasant one. Definitely recommend to anyone who is looking to break into Digital Marketing.
Lai Chin Wee, Vivien
Overall, Jackie was very well informed and I was impressed by her knowledge. She was thoughtful in answering the student questions and made new comer like myself felt welcomed and provided new insights. She was encouraging in the group assessment and also made sure she attended to everyone's queries.
Vigneswari Nagaraj
Courses Jackie Facilitates:
Learn Digital Marketing From The Best
Get yourself certified, apply actionable digital marketing strategies at work and see results.