Digital Marketing Hiring Assistance Program
Fast track your career in Digital Marketing through our job placement assistance program.
Struggling to find and hire skilled digital marketers? Partner with us and let us assist you.
What is the Hiring Assistance Program About?
Despite the surge in digital marketing job positions and applicants in the recent years, many companies still face challenges finding and hiring skilled digital marketing professionals in Singapore.
Equinet's Digital Marketing Hiring and Career Assistance programs help connect employers and job seekers, resulting in job placement opportunities in the field of digital marketing.
With supporting initiatives from Workforce Singapore (WSG) such as the Mid-career Pathways Programme, companies and job seekers can also tap on these grants to further ease hiring and job seeking efforts and resources. To apply for the SGUnited Traineeship and Mid-career Pathways programmes as a host organisation, visit SBF's website.
Who is this Program For?
Any company in Singapore looking to hire digital marketing talent may submit an application to become a hiring partner of Equinet Academy.
Our hiring partners include home-grown digital agencies, small to medium-sized businesses, and global multinational corporations, all looking to hire new and experienced digital marketers.
For job seekers looking for a job in digital marketing within the next 6 months, please visit the Career Assistance program page.
Why Hire Through Us?
Tap on our database of new and experienced digital marketers, including graduates of our WSQ Digital Marketing Certification Courses who have gained foundational knowledge and competency in various digital marketing specialisations (SEO, Digital Advertising, Social Media Marketing, Digital Marketing Analytics, etc.).
Skip job posting fees, recruitment agency fees, and any other hiring-related fees. At Equinet Academy, we are dedicated to matching qualified trainees with our hiring partners.
In order to further close any digital marketing skills gaps, we are also able to recommend potential trainees to courses relevant to the job scope requirements.
How Does this Program Work?
Companies looking to hire digital marketers within the next 6 months can go through the following steps to be matched with potential trainees.
Submit a digital marketing job post.
Indicate required job skill sets.
Receive candidate profiles matched to the job requirements.
Select and interview potential trainees.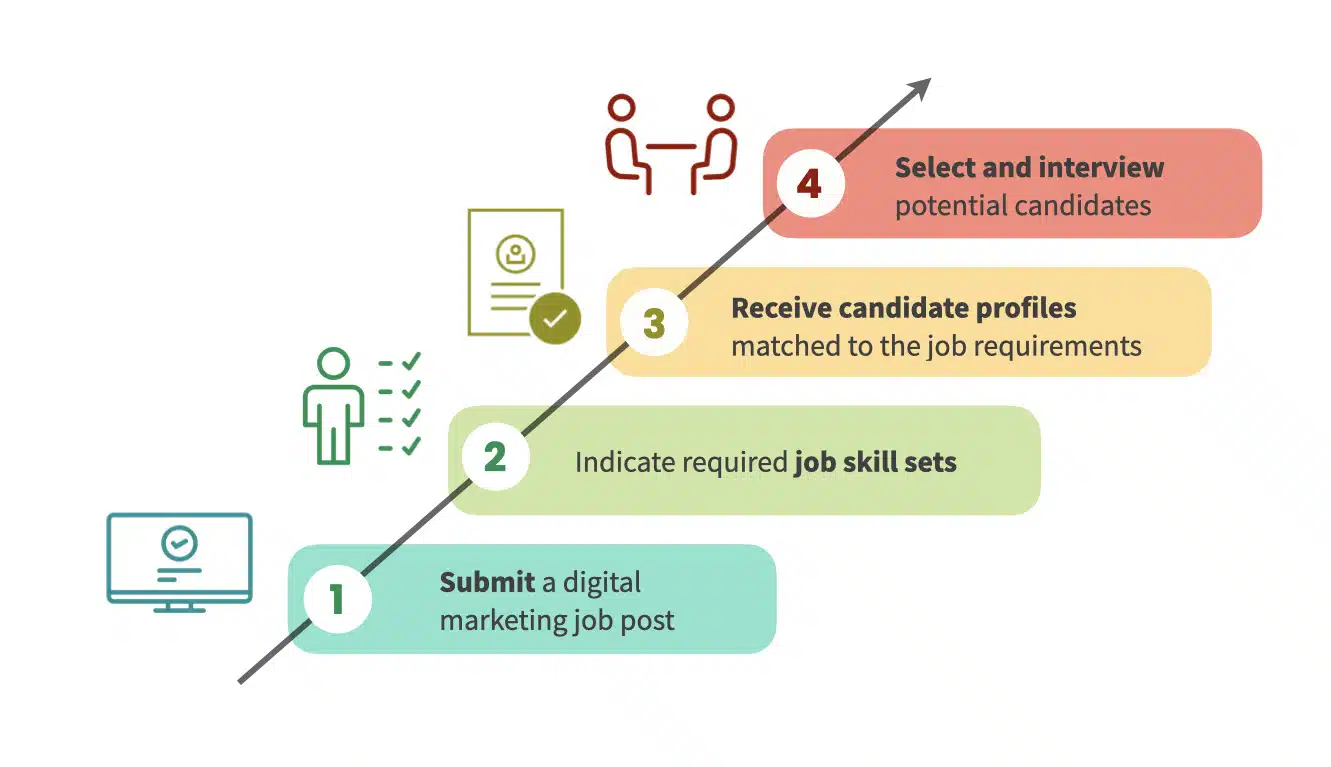 Become Our Hiring Partner Today
If you are interested in becoming a hiring partner, complete the form below and we will get in touch with you.
Digital Marketing Career Portal Menu
Learn Digital Marketing From The Best
Get yourself certified, apply actionable digital marketing strategies at work and see results.