Digital Marketing Career Assistance Program
Fast track your career in Digital Marketing through our job placement assistance program.
Looking to get a job in Digital Marketing within the next 6 months? Enrol into this free program and let us assist you.
What is the Career Assistance Program About?
As part of our goal of bridging the digital marketing skills gap in Singapore, we connect competent marketers and potential candidates with keen interest in digital marketing to our hiring partners.
Our hiring partners include home-grown digital agencies, small to medium-sized businesses, and global multinational corporations, all looking to hire new and experienced digital marketers.
With supporting initiatives from Workforce Singapore (WSG) such as the Mid-career Pathways Programme, companies and job seekers can also tap on these grants to further ease hiring and job seeking efforts and resources.
Who is this Program For?
This program is targeted to job seekers and Equinet Academy course graduates who are looking for a new job or a career switch in digital marketing within the next 6 months.
For employers/hiring companies requiring hiring assistance for digital marketers, please visit the hiring assistance program page.
Why Start a Career in Digital Marketing?
The Information, Communications and Technology (ICT) sector, in which digital marketing and data analytics is under, is among the top 4 job sectors in Singapore that are expected to do well in 2021.
The COVID-19 pandemic has also accelerated digital marketing transformation. With digital marketing spend being spread across more channels in 2021 and consumer daily time usage on mobile devices steadily increasing every year, the demand for digital marketers has also increased, according to a report by Kelly Services and SkillsFuture Singapore.
Moreover, the average salary of a digital marketing specialist ranges from $30,000 – $40,000 per annum, with digital marketing directors drawing $120,000 per annum in salary.
For more information on starting a career in digital marketing, visit our digital marketing career portal.
How Does this Program Work?
Career seekers looking for a new job or career switch in digital marketing can go through the following steps to be placed into digital marketing job positions.
Identify job scopes of interest.
Upload CV, linkedin profile (optional), and portfolio (if any).
Receive and complete diagnostic assessment.
Be notified of the outcome.

Fast Track

Select preferred type of company e.g., agency, client-side (SME, MNC)
CV and profile sent to potential hiring companies.
Hiring companies to interview candidates.

Recovery

Follow-up actions will be recommended.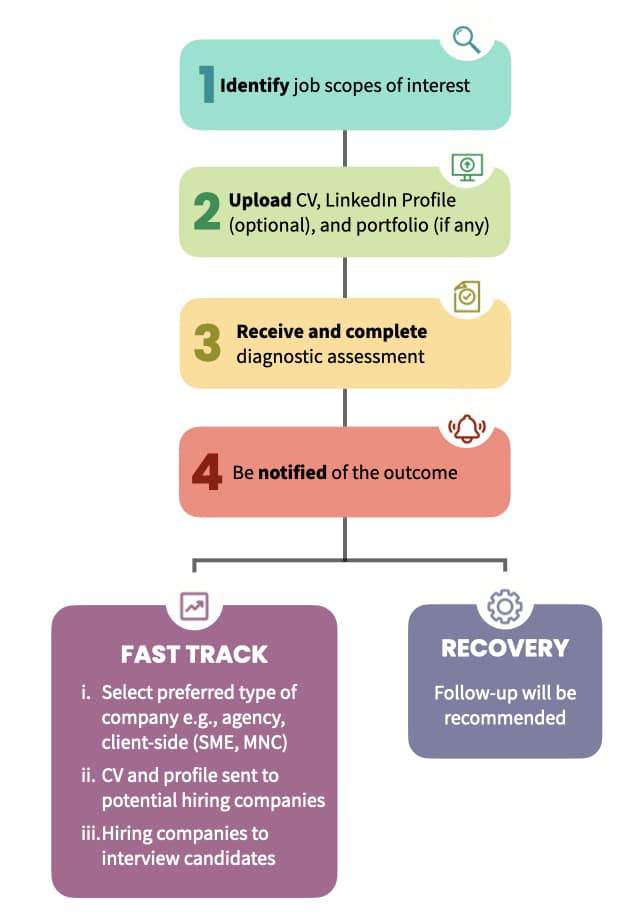 Get Placed in A Digital Marketing Job Position
If you are interested in getting matched and placed in a digital marketing job position, complete the form below and we will get in touch with you.
Digital Marketing Career Portal Menu
Learn Digital Marketing From The Best
Get yourself certified, apply actionable digital marketing strategies at work and see results.