This is a collection of local case studies of successful digital marketing campaigns developed and executed in Singapore. The case studies are segmented into the following online marketing disciplines:
Search Engine Marketing (SEM)
Case study #1 – Express Colour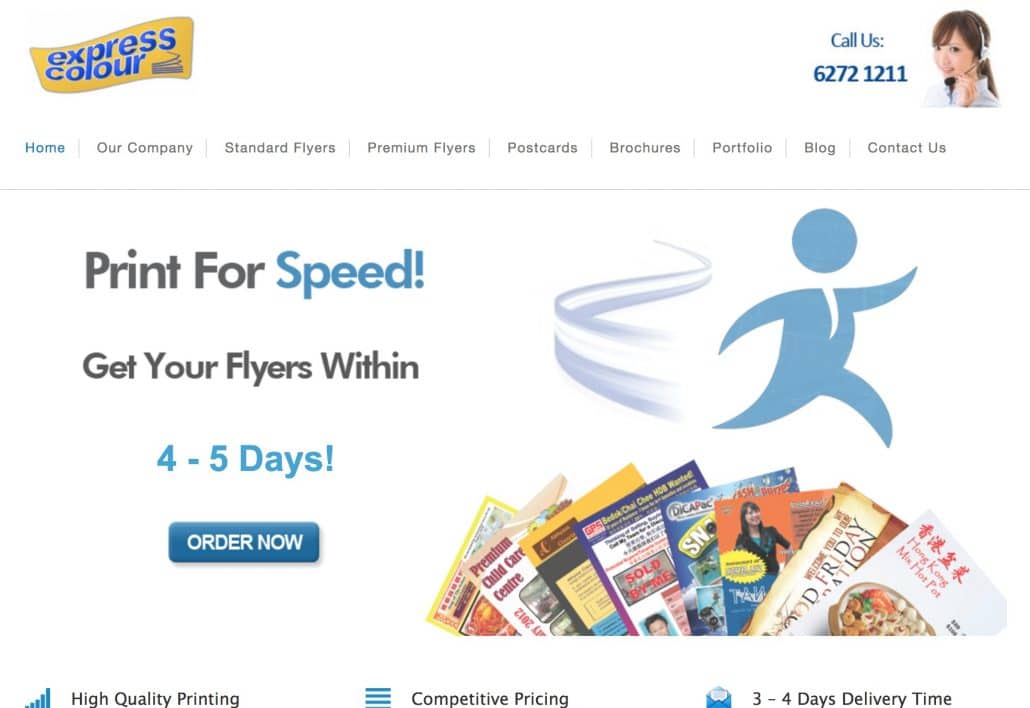 Company Background
ExpressColour is a boutique local commercial flyer/postcard/brochure printing company based in Singapore. For over 25 years, ExpressColour had been relying on traditional marketing methods to sustain its business activities.
ExpressColour's main clientele base were real estate agents. When the property market dipped in 2013, the phone lines became very quiet.
As an FMCG company, Search Engine Marketing was the most relevant and effective marketing channel. Consumers wanted their marketing collateral delivered fast and at low cost and they took to the search engines to discover and compare various commercial printing companies.
After launching a Search Engine Marketing campaign with Google AdWords and optimising the website to rank on the 1st page of Google's organic search results, ExpressColour saw a 30% increase sales volume.
What Happened?
Before the property market downturn, ExpressColour's clientele base was relatively small, but the sales volume of each client was large.
After implementing Search Engine Marketing, a huge influx of small volume orders came from a variety of industries ranging from Retail to F&B. This made up for the initial dropout of larger B2B clients and ExpressColour was able to thrive in this competitive industry.
The figure on the right depicts a monthly average search volume of 1650 searches a month for only 4 commonly used search terms.


A conversion rate of 2% would mean 33 new customers per month on average.
Challenges Faced
It wasn't all smooth in the initial phases of launching the Search Engine Marketing campaign. Competition was high and ExpressColour's pricing wasn't competitive enough.
Bidding on the keywords that included the keywords "cheap" e.g. "cheap flyer printing" proved ineffective.
According to its AdWords reports, ExpressColour was spending an average of $2.00 per click on keywords that included "cheap", but weren't fulfilling orders for those keywords. This resulted in a negative ROI for the overall Search Engine Marketing campaign.
Upon removing "cheap" keywords from its AdWords Search Advertising campaign, ExpressColour was able to reduce its Cost Per Acquisition (CPA) by 4.5 times.
Before Optimisation
Note the cost per conversion at $150.92 before adding search queries e.g. "cheap flyer printing" and "cheapest flyer printing in singapore" as negative keywords.


After Optimisation
Click-through-rate dropped to 5.04% but cost per conversion decreased to $29.19 after ads did not show for "cheap" keywords.


---
Case Study #2 – New Launch Property Website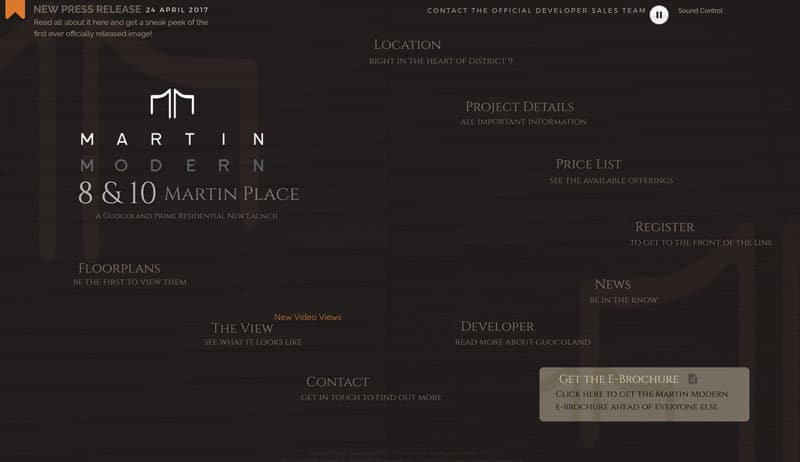 PropNex Property agent Dominic Lee has been launching multiple Google AdWords campaigns on multiple new launch properties for the past year since 2016. The average cost per click (CPC) was high and leads were plenty, but the average cost per acquisition/lead (CPA/CPL) was high.
After attending our Digital Advertising (PPC/SEM) course, Dominic applied industry best practices on his AdWords campaigns, including launching Display and Remarketing campaigns, and has seen remarkable results.
His most recent campaign on the newly launched Martin Modern condo project has seen 66 leads in a span of less than two months.
What Happened?
He started by dividing different keyword themes leading to different pages into different ad groups. For example, floor plan keywords such as "martin modern floor plans" would lead to the martin modern floor plan page on the website.
So if a potential buyer keyed "martin modern floor plans" into Google, he would see a text ad about Martin Modern floor plans. And upon clicking on the ad, he would be taken directly to the floor plans landing page.
This increased relevancy and the click through rates (CTRs) and resulted in a bump in Google AdWords' Quality Score metric system, decreasing keyword cost per click and increasing the average positions of his ads.
Other techniques applied included keyword match types, ad extensions, remarketing, and conversion tracking.
These optimisation techniques resulted in at least a 250% decrease in cost per acquisition. I.e. $100/lead instead of $250/lead.
---
Social Media Marketing
Case Study #1 – Local Convenience Store
Social Media Objective
Our client is a retail brand which operated convenience stores located around the island. They approached us when they wanted to increase the performance of their Facebook page to boost brand awareness, engagement and conversion.
Results Achieved
Here are the main Facebook performance indicators for slightly over four months since we took over the account from its previous agency. We have achieved significant improvements across all performance metrics – from fan growth and engagement to reach, impressions, views and clicks.
Total No of Fans:

BEFORE: Total Page Likes at about 11.3K
AFTER: Total Page Likes at about 54 K (as of 10 May 2017)

Fan Growth:

BEFORE: Average growth of about 397 new fans per month
AFTER: Average growth of 2,525 new fans per week (or about 10,000 new fans per month)

Total Reactions/Likes:

BEFORE: Average total of 123 reactions per day
AFTER: Average total of 268 reactions per day (about 218% improvement)

Average Impressions Per Day:

BEFORE: Average total of 6,590 impressions per day
AFTER: Average total of 11,437 impressions per day (174% improvement)

Average Page Reach Per Day:

BEFORE: Average page reach per day of 5,313
AFTER: Average page reach per day of 9,482 (175% improvement)

Average Page & Tab Views Per Day:

BEFORE: Average Page & Tab Views per day of 43
AFTER: Average Page & Tab Views per day of 65 (50% increase)

Average Engaged Users Per Day:

BEFORE: 225 Engaged Users Per Day
AFTER: 858 Engaged Users Per Day (381% increase)

Average Page Positive Feedback Per Day:

BEFORE: 190 Page Positive Feedback Per Day (ie Likes, Comments, Shares, etc)
AFTER: 304 Page Positive Feedback Per Day (160% improvement)

Average Post Clicks Per Day:

BEFORE: 210 Post Clicks Per Day
AFTER: 469 Post Clicks Per Day (223% increase)
From an advertising ROI perspective, we placed about $200 to boost each post, capping monthly ad spent at about $2,000 (or less). This was comparable to the amounts spent prior to taking over. 
Social Media Marketing Strategy
We adopted an integrated and holistic social media marketing strategy to gain significant improvements in brand awareness, fan engagement and conversion (as measured by contest participation) while reducing total advertising and content investment from our client (approximately 20% reduction compared to previous agency).
This was achieved through the following strategies:
Audience Targeting
We created different custom audiences in our Ad Sets for Facebook advertising, and tested how they would respond to different boosted posts. Generally speaking, the target audience which we zoomed in on were:
Demographics: Mostly young (Mid 40s and under)
Location: Distributed throughout Singapore
Psychographics: Users with affiliated interests (eg convenience stores, retail, snacks, beverages etc)
Connections: Friends of fans and connections of existing fan base (11.4 K)
Behaviours: Facebook users who respond to certain promotions
From the lessons which we've learned from each boosted post, we have increased our efficiency in targeting and placing of Facebook ads.
Boosted posts to increase engagement and participation
Like page ads to increase fan base
Captivating Content
As our client is a convenience store, it was important to create easily accessible, attractive and captivating content. The goal was to gain greater brand awareness and recall while improving engagement and stickiness:
Create monthly content calendar that focuses on a mixture of promotional and thematic posts
Capitalise on festive occasions to boost engagement and participation, eg Chinese New Year, Valentine's Day, Mother's Day
Develop community-based content revolving around the neighbourhoods where the stores are located
Craft punchy and witty copy that appealed to target audience
Use creatively designed visuals that are targeted primarily at the young and young-at-heart
Experiment with a mixture of different visual styles, eg GIFs, photo-led posts, and cute looking cartoon like design
Gamification through Fun to Play Contests
A key part of the strategy involved rolling out regular contests (about 2 per month) to trigger reactions, comments (contest participation) and social sharing/ virality. On average, each contest attracted from 150 to 200 participants and numerous shares (with the best result achieving over 800 entries).
Mechanics to play simple yet creative to attract mass participation
Use of simple but attractive visuals to convey game mechanics
Value of prizes kept low (eg $20 worth) with only one winner. However, the sheer fun factor of the contests made participation significant
Credits to: Walter Lim – Cooler Insights
Walter Lim is the Chief Contest Strategist of Cooler Insights – a boutique content and social media marketing agency. A prolific blogger and business influencer, he loves to help businesses create, nurture and grow winning brands through storytelling, social media, and PR. Connect with Walter on LinkedIn or visit his website.
---
Display Advertising
Case Study #1 – Linda Mandarin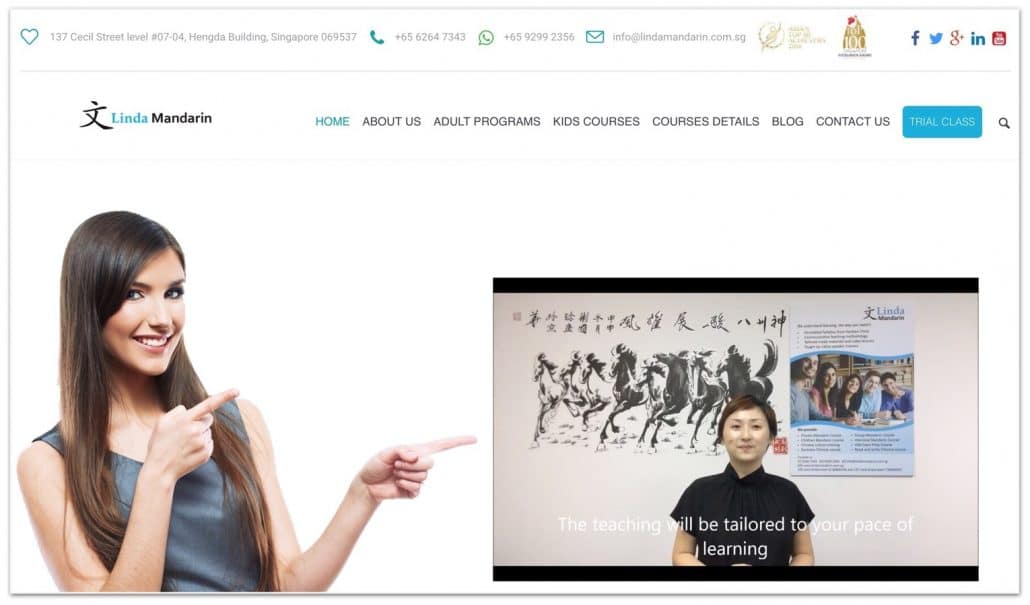 Background Information
Linda Mandarin, Chinese Edge, and Korean Explorer form a local language school offering Chinese and Korean language classes for corporate and individuals.
Having already established their presence on Search Engines for Chinese Edge and Korean Explorer, Linda Mandarin wanted to increase their volume of free trial class signups.
They took to Display Advertising via Facebook Ads to deliver Sponsored Newsfeed Ads to website visitors who browsed their website, but did not sign up for a free trial class.
By installing a Facebook Pixel on their website, Linda Mandarin was able to track their website visitors' behaviour and create Custom Audiences to retarget ads to their website visitors who had a Facebook account, but hadn't yet signed up for a free trial class.
What Happened?
In one Facebook Sponsored Ads campaign with Conversions selected as the ad objective, Linda Mandarin acquired 21 contact form enquiries at the cost of $10.38 per lead.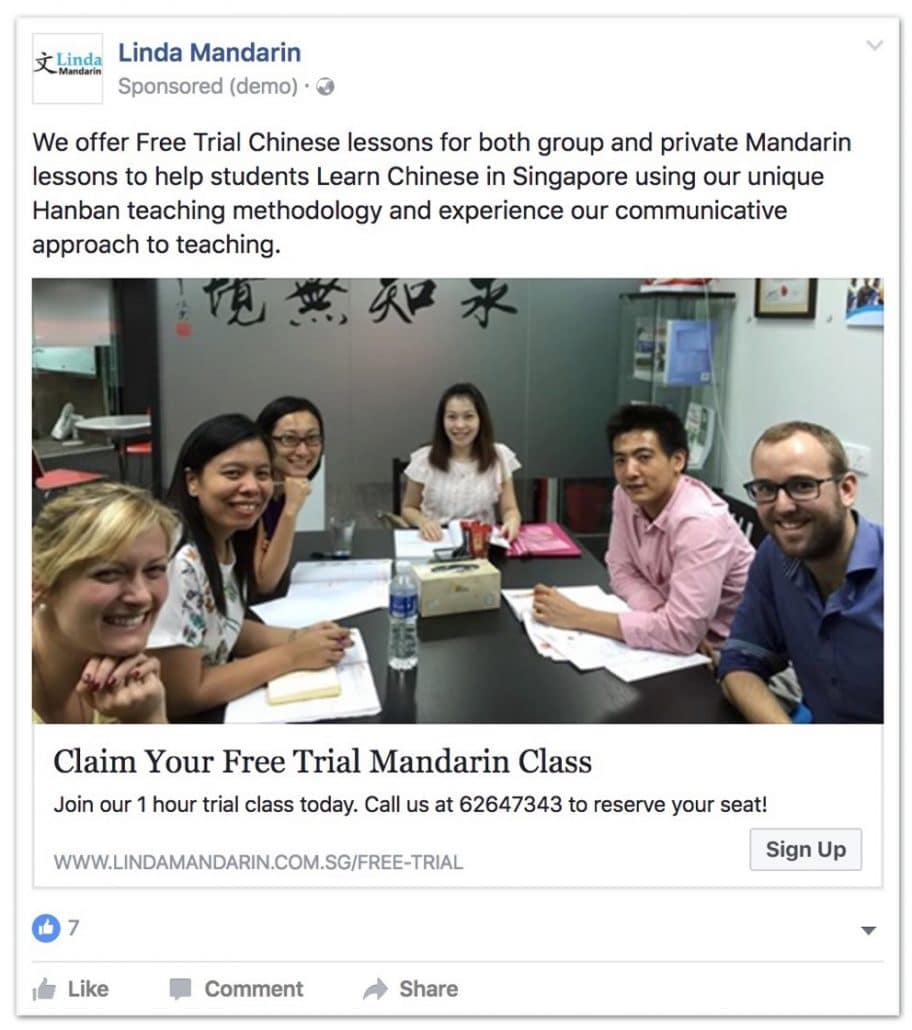 As you can see in the table below, an A/B split testing experiment was conducted. Two ad creatives, one with the call-to-action "Claim" and one with the "call-to-action" "Sign Up" was ran side by side, and the winner appears to be the first ad with the word "Claim".
As a collective result of all Facebook Ad campaigns ran, Linda Mandarin saw a 20% increase in free trial class signups.


Source: Lawrence Foong, Founder of Linda Mandarin, Chinese Edge, and Korean Explorer.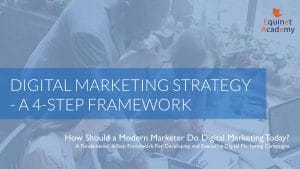 Get Your Free Copy of the 4-Step Digital Marketing Strategy Framework Ebook
https://www.equinetacademy.com/wp-content/uploads/Busines-Discussion-on-digital-marketing-case-studies.jpg
666
1000
equinet
https://www.equinetacademy.com/wp-content/uploads/2016/02/EA-Logo-White.png
equinet
2017-05-11 14:25:47
2017-08-29 15:14:02
Digital Marketing Case Studies in Singapore